"Yasuto Kamoshita & Motofumi Kogi talk about their  Best New Menswear Designers award and what is the essence of United Arrows"
For a decade now, GQ has been honoring annual Best New Menswear Designers every year. With this being the 11th year, United Arrows are now one of the recipients. With the winners launching a capsule collection with global brand Gap, there was an urge to not only spotlight a designer in US, but also designers that are making an impact around the globe. At the launch of the GQ x Gap party, Jim Moore, Creative Director of GQ explains that "I wanted someone Japanese and European this time, and it was my dream to get the United Arrows guys." We sat down with Yasuto Kamoshita, the Creative director of United Arrows and Motofumi Kogi, a director of United Arrows and Sons who flew to NY for the reception party and talked about how it happened and collaboration items with Gap.
Photo:Omi Tanaka
Text:Momoko Ikeda
English translation:Hisami Koyama & Andy Jackson 
"First we weren't sure if we could accept this award."
ーCould you tell me how you received the award?
Kogi: I met up with GQ's creative director Jim Moore during this past Milan Fashion Week during January. GQ has been doing the Best New Men's wear Designers in America program for a decade now and for their next step, they chose United Arrows. At first we had explained that first and foremost that we are a retailer, not a brand. However, Jim convinced us that every time he visits Japan, he steps into United Arrows and has a highly great impression of what we are showcasing. After this conversation, me and Mr. Kamoshita discussed and decided to accept the award.
Kamoshita: I don't have any self-awareness as a designer, since I am more knowledgeable about retail and how to successfully do sales within retail, it's totally different from being a creator. I am involved in some aspect of producing items, but there were doubts inside me whether it's really ok to receive this award as a designer. I feel like we're not as deserving as the designers who actually make this their lives. But I understand why Jim chose us. I hope this will be a good opportunity to connect to the world and hope we can fulfill many expectations by working on this project.

The party was full of energy, with hints of drinks and foods of the countries that participated.

From Left to Right: Motofumi Kogi and Yasuto Kamoshita of United Arrows, Creative Director Jim Moore of GQ, Jey Perie of Kinfolk and Alexandre Mattiussi of AMI.
ーWhat was the process of making the collaboration items with Gap?
Kogi: Few people know about United Arrows in America too, but since this is our first time stepping in the spotlight officially, I thought it would be great to include Mr. Kamoshita's taste, in which helped establish United Arrows, and I who in return, presents a taste that'll appeal to an American audience. We could mix our own personal thoughts and styles together, concluding in connecting with an American audience with different influences of style.
  
For instance, we made jeans that had sashiko embroidery used for United Arrows & Sons, including graphics that we as United Arrows don't normally do. For this collaboration as well, we asked Baron Von Fancy to help with the font on the hoodies and T-shirts, as he collaborated with us in the past as well.
Kamoshita:Japanese fashion is perceived as "mix" of styles, as putting together different things to dress down and make casual looks a bit more dressier. I think that makes Japanese fashion interesting. I had thought that we should true to this aspect within the collection. With the mixing of my more dressier style sense and the element of street style, I think we landed in a good spot.
ーYou both had combined great aspects of your style.
Kamoshita: thinking of the idea that these products would be lined up in the Gap store front, it was hard for me to wonder where I should place my focus. The world of Gap is specific, so I kept thinking that dressier options wouldn't be great, but options with sneakers would. Ultimately, the items had meshed well together without changing our tastes.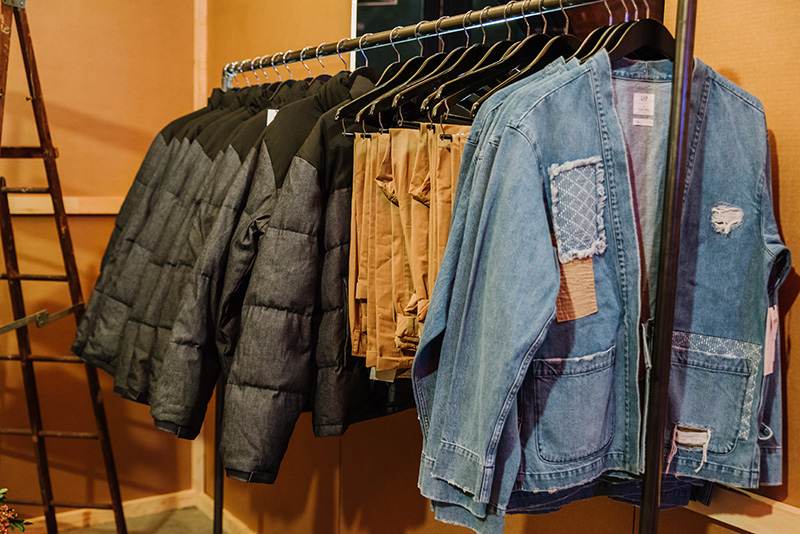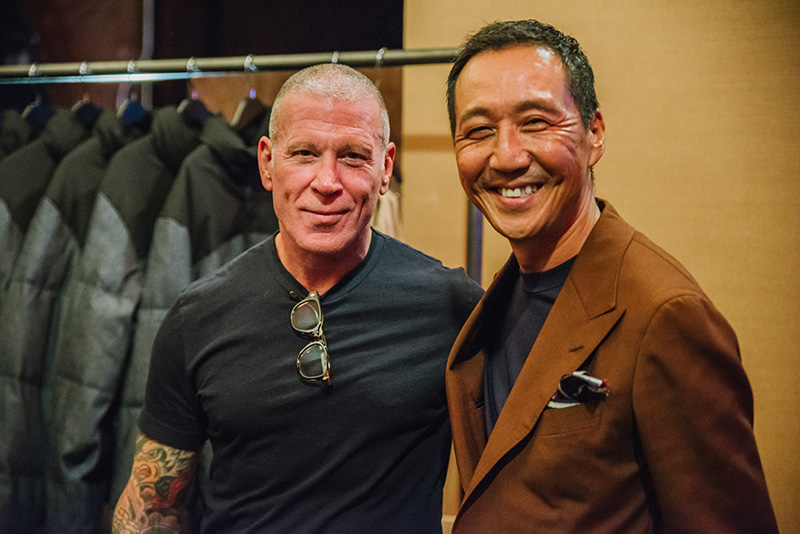 From top left to bottom right: The designers of the new GQ and Gap capsule were showcased by a bigger than life image of them and models in their design / The United Arrows stall was packed with partygoers wanting to buy their pieces / From the padded jackets to the sashiko jacket, all of the pieces sold well during this night / Nick Wooster and Yasuto Kamoshita shared a smile with one another.
Kogi: Back in the day, I worked at Shinjuku's Flags store and Gap was on the ground floor of that building. I was mixing Gap, Ralph Lauren and United Arrows so I don't have any resistance when it comes to mixing clothing pieces. I was worried whether it's really ok to deconstruct what Mr.Kamoshita's generation had built. From GQ they asked us to push our styles, and from Gap they didn't want jackets because they don't sell, so we were stuck in a difficult place. Since United Arrows' statement piece is a jacket, we had the urge to make it. Once we got the OK sign, we went ahead and did it. we sold out balmacaan collar coat on the first day it was introduced online. Even though the shapes are different, there are people who buy jackets and thought there was some potential, and saw that there was a certain opportunity by buying it. I thought it was interesting that it affected the consumers directly in the US.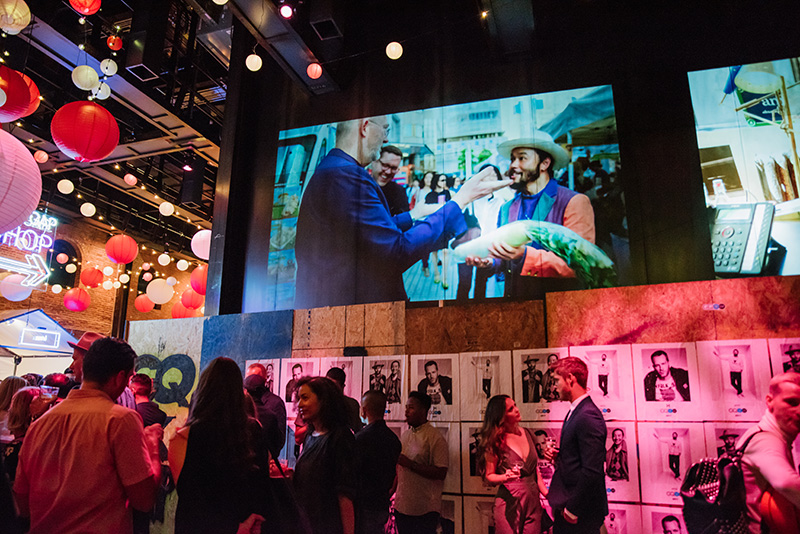 "We recreate items that speak to the current time, that is our best skill."
ーMr. Kamoshita is known for his brand, whilst Mr. Kogi is known for his social media presence; but as United Arrows this is the first time the brand has been publicized internationally. It as well is the first time that consumers can successfully buy United Arrows in the United States. How do you feel about this experience so far?
Kogi: We had started out in a weird way. I get impressed by what Gap makes with the fabric for chino pants at that price point, but at the same time it made me realize Japan's raw materials and how good quality and small details make an item great. I realized not to be so affected by the thoughts of items just being affordable. There are many brands and people that are good at figuring that out, but for us we need to do our best in various areas.
Kamoshita: When the United Arrows staff had thought what United Arrows is, we thought about how our persistence shines through and how we are particular about the products we sell, and agreed that was our strength. We are growing as a company, so of course we are trying to sell to the wide range of people but deep in the core we want to provide items that are good for people and hopefully it'll spread that way, that order should never be wronged.
ーI see.
Kamoshita: Yesterday when I had lectured at the Gap U.S. Headquarters, during the lecture I was asked "what kind of company is United Arrows?"  I answered: I grew up with the POPEYE generation and learned American culture from the magazine, and as I matured I learned the coolness of Europe within French style and the iconic gentleman style of England. I traveled to various foreign countries on business and saw beautiful shops, and with those experiences I've tried to seamlessly mix it with Japanese influences as well. When we suggest styling we have many experiences, that we can pull out at the right moment that suits the current generation and recreate pieces for them, that's one of our skills. With so many experiences in buying, I think it's also important to polish this skill and to strengthen it. I thought those kind of things while lecturing last night. Since we were lecturing in foreign country who does not know United Arrows, it made me think what our identity was. It was difficult to think of how to translate that so it was good learning experience."
ーI can sympathize with that.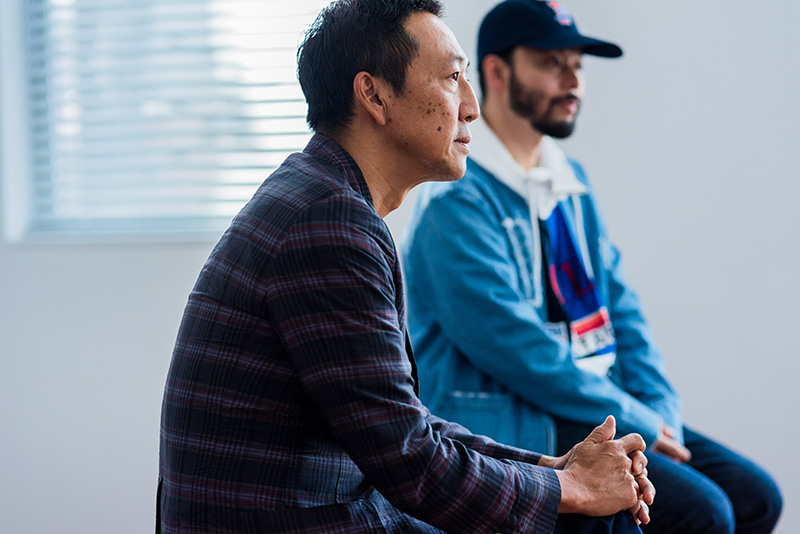 Kamoshita: In the 70s and 80s, there were a lot of men's shop and great women's shop that showed characteristics about their cities. However, the world seems flatter and everything seems similar everywhere, which is upsetting, so knowing that during this time there were more emotion in what they did, I wanted to emulate that. Even if time changes I want United Arrows stores to have something that's timeless and good. For example, there were cool sales associates that had worked at stores in Paris and had great style, I want the younger generation to learn this history, as it seems to be forgotten.
Kogi: In America I didn't see much people wearing jackets in a traditional or formal way that often, but this time when we visited the GQ office at the World Trade Center, there were multiple guys wearing safari jackets and shirts with straight tip shoes.  I thought I should really widen my point of view as Mr. Kamoshita mentions.
---
"We want to continuously convey the essence of United Arrows–the greatness of formal wear."
ーTell us about your future plans and message to the next generation in terms of getting more global.
Kamoshita: It's hard to differentiate with an item itself and to show personality. But how to pair shoes with an outfit would show that person's personality and the culture within their country. Pursuing those "characteristics" is something that UA has strength in also. As a multi-brand store what's important is "how to dress". It's the concept of choosing good items and dressing them up, this concept is everything.
Often times, it's mentioned that Japan's retail shop's strength is their service and attention to details. This made me wonder this type of hospitality doesn't exist in other countries. I think because that kind of hospitality was not needed in some countries. The sense of service is what's based on Japanese mentality and I even think it's sometimes too much. We need to compete with the products we sell instead of the customer service. Styling differs in individual countries, so we have to rearrange based on their homelands. So what's going to be left is the items itself. What's going to be important will be Japanese craftsmanship. Just like Japanese food, if we are particular about the details and the quality, then I believe we can be globally accepted. I don't think we are at the point to where we think United Arrows will be effective, we need more homework first. 
Kamoshita: I've been working in this industry for a long time and now buying clothes for more than 40 years, but through this project I learned the beauty of universal appeal.  There are things that I had bought when I was in high school and pull them out from time to time and still think it's good. To pass those down is something that will not let down customers. I want to communicate those kind of things. I want you to understand that you have to try numerous things in your life and experiences to have the idea on how to update style in a creative way
Kogi: I think sportswear will continue to spread, but even for athletes there are jackets that are used for certain occasions. I respected these certain jackets and incorporated them into my daily life so not only people within the street style realm would notice me, but also people who aren't into fashion would notice me as well, regardless of how I wore them. I learned that wearing jackets can spread a certain message, so I want to pass that learning experience down. I think this kind of communication will never die down.
Kamoshita: wearing jackets are necessary in official occasions and as a member of society, so it's a good on and off.  I think whatever rules that aristocrats had created will dissipate, but the fun aspect of wearing jacket is and enjoying oneself is the beauty about fashion. This helps when partaking in special occasions, as the act of dressing up also helps motivate you. It is also fun to dress up because you're telling a story about yourself to others. The definition of formal will change as time passes, but that's natural. On the contrary, even in that change I want to keep focusing on how I can express myself. In conclusion, "it's not fun if you can't dress up while looking cool."
---
Images from the awards party and two interviews have been published on the web magazine "HOUYHNHNM".
http://www.houyhnhnm.jp/feature/109072/
---
INFORMATION
PROFILE
Kamoshida Yasuto
Born in 1957. Participated in the founding of UNITED ARROWS and responsible for the overall creation of mens' clothing plans, buying, and store design. Named creative director of UNITED ARROWS in 2004. In 2013, his self titled label Camoshita UNITED ARROWS was awarded Asia's first Pitti Immagine Uomo Award.
Motofumi "POGGY" Kogi
Born in 1976. Director and buyer for UNITED ARROWS & SONS. Opened Liquor, woman & tears in 2006, and in 2010 established and became director of concept store UNITED ARROWS & SONS. Was included in Style.com's "25 Most Influential People In Menwear" in 2015. In 2016, he was also included among the 100 people selected by web magazine HYPEBEAST.
SHARE