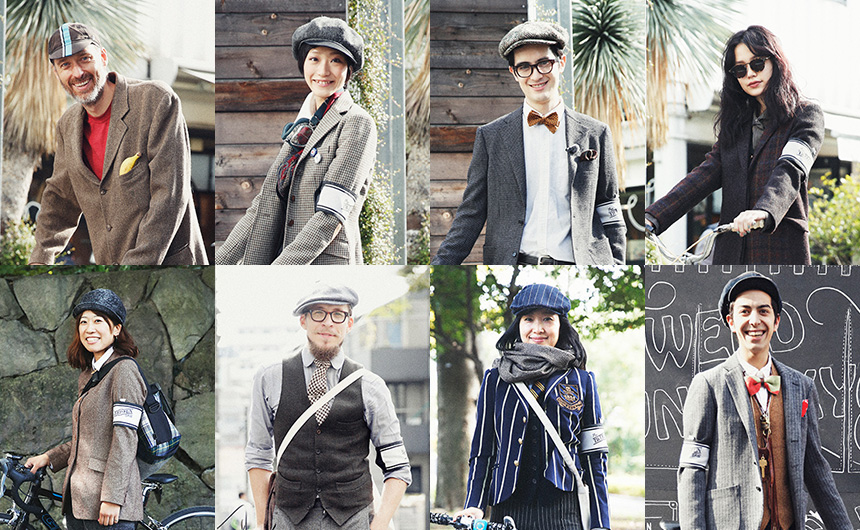 「The Tweed Run Tokyo 2016」STYLE REPORT.
The Tweed Run is a bicycle ride through the city with a tweed-based dress code to spread awareness of the importance of safe riding and the joys of fashion. The event, which originated in England, is now on its way to becoming an autumn tradition in Japan as well. This year, the Tweed Run Tokyo 2016 was held on Sunday, October 23.
Photo:Takeshi Wakabayashi
Text:Masato Kurosawa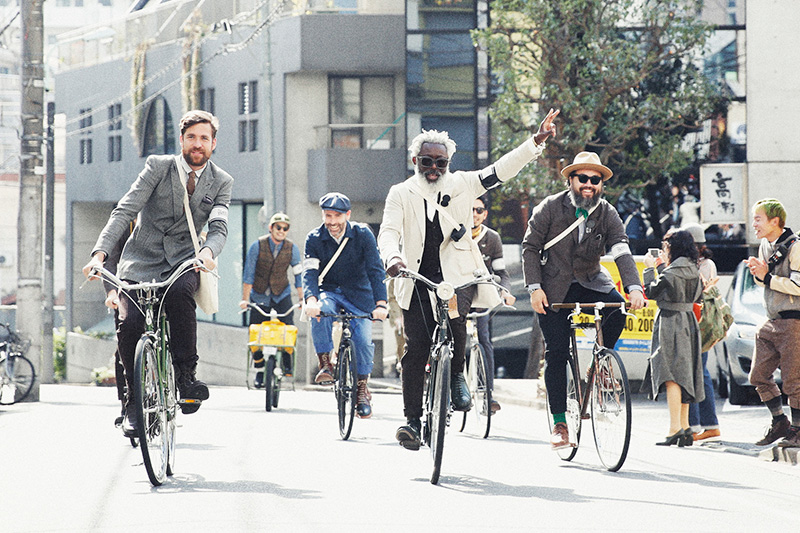 In 2009 the Tweed Run first made its way through the streets of London in England, the land of tweed. The Tweed Run Tokyo 2016 marked the fifth time the event was held in Japan, and gathered many participants. Hailing from a variety of ages, genders, nationalities, and occupations, the participants donned their favorite tweed fashions and rode around the streets of Tokyo led by professional bicycle messengers. Blessed by better weather than in previous years, the riders happily rolled through Yoyogi, Harajuku, and Gaienmae, central areas heavily influenced by Tokyo culture. It seemed that breaks during the ride and the tea party afterward were filled with conversations about everyone's bicycles and fashions. Even complete strangers were drawn together by common interests, and these stimulating encounters were another part of the event's charm. We will introduce some of the participants' unique tweed fashions through snapshots.
---
Recipient of Best Dresser award
Mami Matsuura / Photographer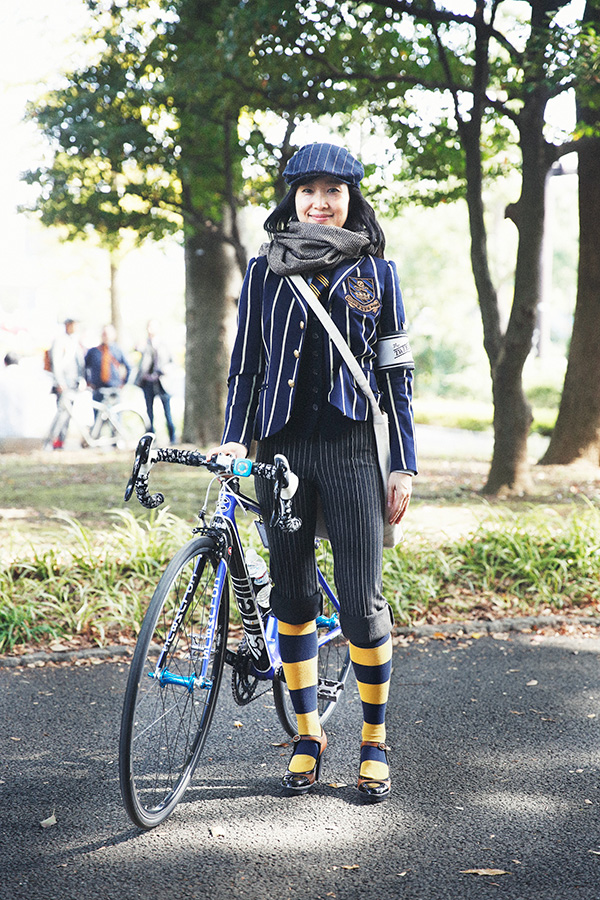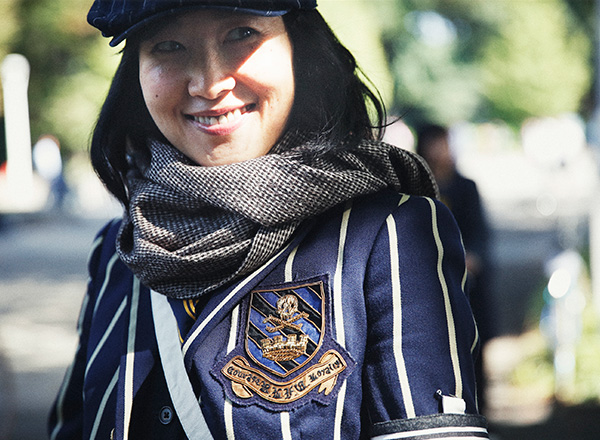 "I like stripes, so I went with stripes and borders from top to bottom. I also limited the colors to navy and yellow as much as I could. I wanted to feature tweed, since it's the Tweed Run, after all, but I decided to go with just a tweed stole and used it as an accent. I usually ride in road races, so this is my first time in an event were everyone rides slowly while enjoying fashion. I entered alone this time, but lots of people talked to me about my bicycle or clothes, so I wasn't lonely at all (laughs). I met a lot of wonderful people, and had a great time. I'd love to participate next year, too."
---
Michael Rice / Actor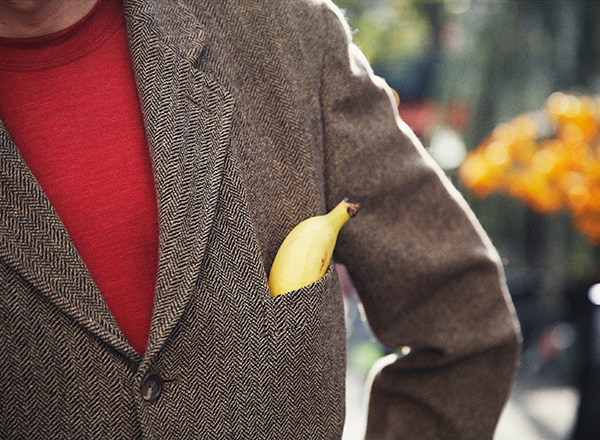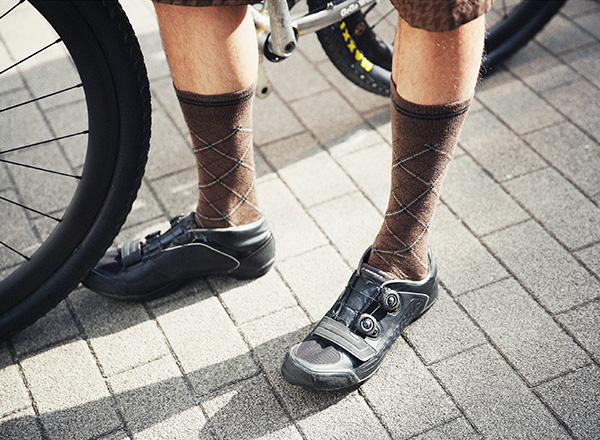 "I used to be a road racer so of course I enjoy bicycle riding, but enjoying fashion and cycling at the same time was a very new experience for me. I chose houndstooth cycling shorts to match the tweed jacket, and socks to match the color of the jacket. I also have a banana instead of a handkerchief (laughs). It gives a pop feel to the ensemble, and if I run out of energy I can eat it (laughs). The bicycle is a custom bike from a friend's brand, called Radical. The simple feeling from the unpainted steel frame was a perfect match for the tweed. I have more than 30 bikes, but this one now has a special place in my heart thanks to this event."
---
Yasuhiro Inoue / Company employee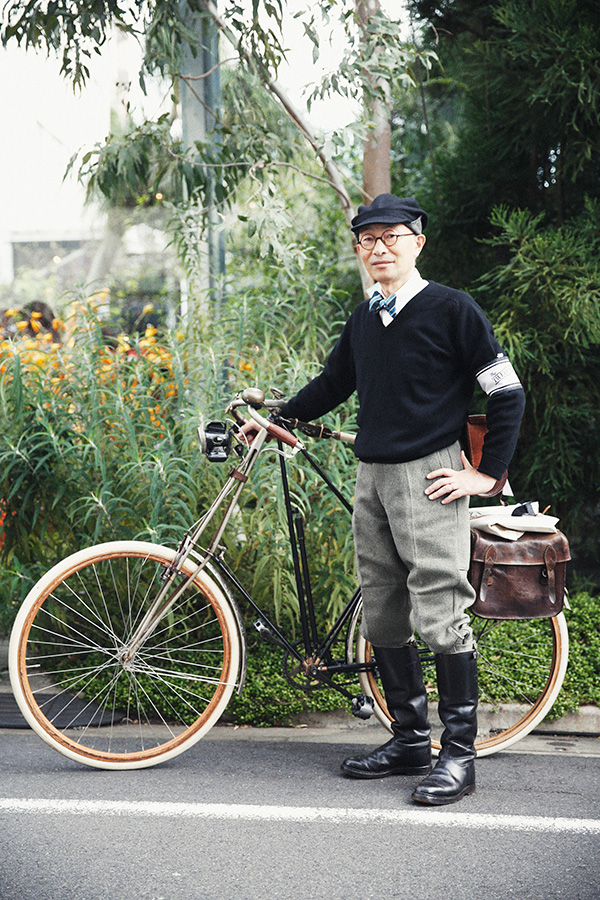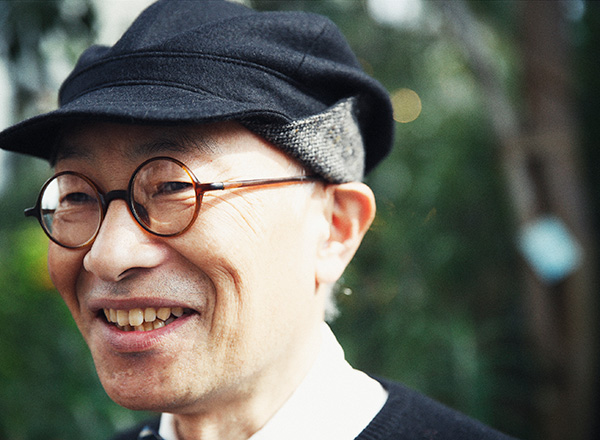 "I have loved bicycles for more than 40 years starting from when I was in middle school, so when I heard about this event I was determined to participate. I'm so happy I was actually able to do it. The bicycle I'm riding today is one of the older ones in my collection. I think it was made in the 1910s in Belgium. It's a Pedersen bicycle with a hammock saddle that anyone who likes classic bicycles will know. The saddle really does move around like a hammock, so it was a little difficult riding through the city. My fashion concept was 'spend as little money as possible.' I just tried to wear basic items without getting quirky. The only part I gave more thought to was this casquette with tweed lining so I wouldn't violate the dress code (laughs)."
---
Mari Shimizu / Messenger
"When I participated last year I ended up feeling embarrassed because I didn't dress up very much, so I put more energy into it this year. I put on a tweed jacket, a bolo tie, and a tweed messenger bag. That much was fine, but it doesn't really go with the sporty road bike I use for work, so I'm regretting that a little bit. I'm used to riding around the city for work, but the opportunity to dress up and enjoy the scenery is rare, so it feels very different. It has reminded me all over again of how fun cycling can be. If I get a chance to do this again, I'd like to ride a classic bike that goes with the tweed."
---
(right)Jackie Villevoye / Designer
(left)Julien Villevoye / Company president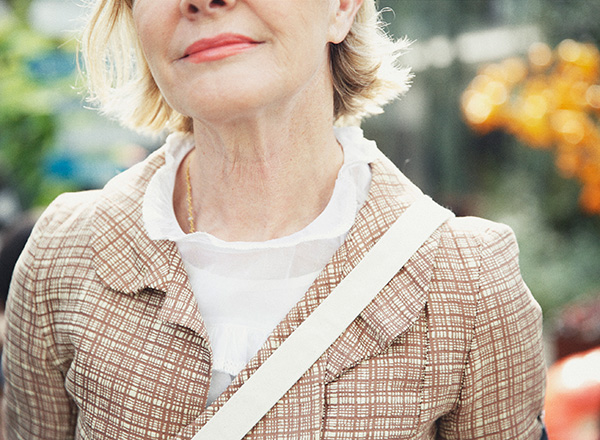 (right) "I had heard about the Tweed Run when it was held in England, but this is my first time actually participating. It was very stimulating to be able to interact with all kinds of people. It was memorable to be able to participate wearing a J-B-J (Jupe by Jackie) frill shirt I designed myself along with a vintage tweed outfit."
(left) "I decided to participate as well after Kurino-san, the executive committee chairman, was kind enough to invite me. It was very interesting to be able to ride through the streets of Tokyo, as they are very different from my home country, the Netherlands. The focal point of the outfit is the embroidered flower motif tie by J-B-J, designed by my mother Jackie. I tucked my pants into my socks for a jockey-like look."
---
Enzo Yamada / Boutique staff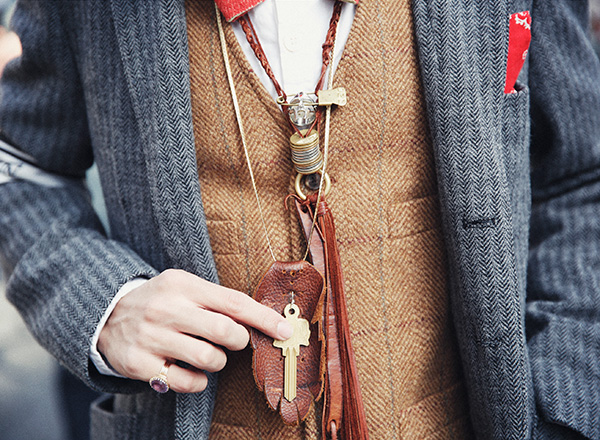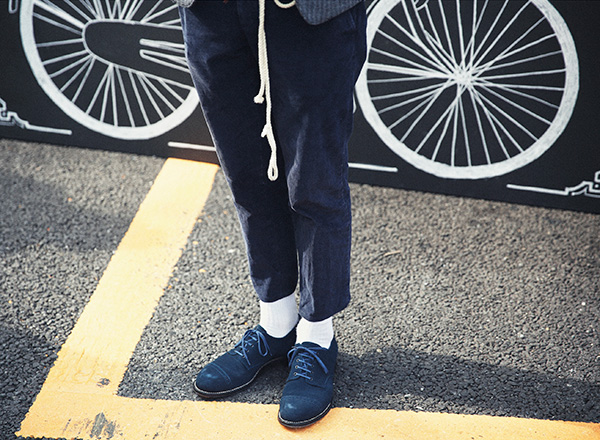 "I just moved to Tokyo from Osaka a year ago and I don't know Tokyo very well yet, so cycling around town and taking in the atmosphere was a very new experience. I love tweed and corduroy anyway, so I went with corduroy pants that go with the plain tweed jacket for a pastoral look. This thing that looks like a necklace is actually a stack of ¥5 and ¥50 coins. It's an accessory that draws the eye, and if I ever lose my wallet it might be enough to take the train home (laughs). I also went with navy, one of my favorite colors, for my pants and shoes to avoid getting too casual."
---
Ryohei Tada / BEAUTY&YOUTH assistant buyer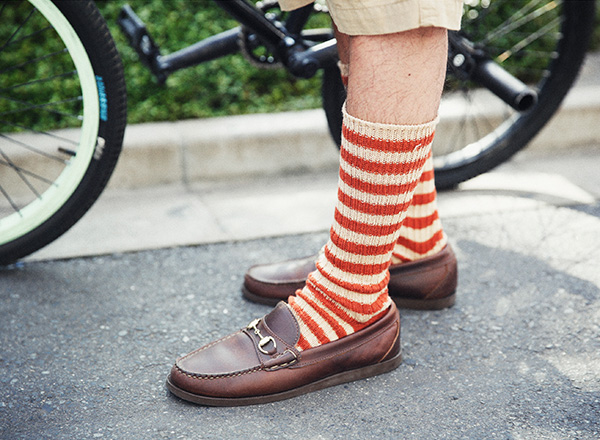 "When I heard about the tweed-based dress code and searched my closet, I found this vest. I tried going for an English country style with colors and materials (laughs). I used mostly browns, with a British Kangol cap and border socks with an English feel. I usually ride a BMX bike, but it's customized so much that I didn't think it would go with the clothes. So I borrowed my girlfriend's bike. The wheel coloring is a little unique, but it goes surprisingly well with my clothes, so I was able to enjoy the ride without any worry. The weather was perfect—not too hot, not too cold—so it felt great."
---
Matthew Ireton / Entertainer, reporter, radio DJ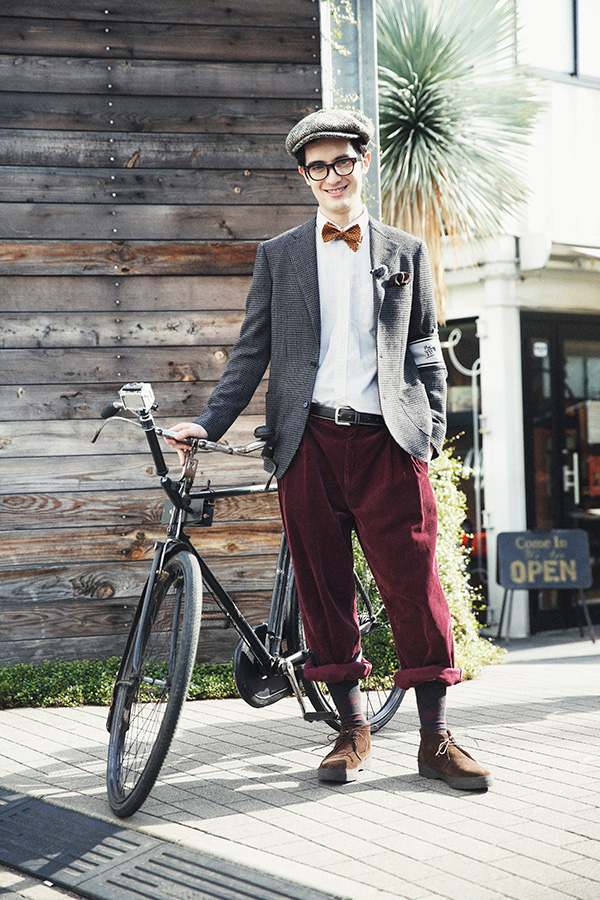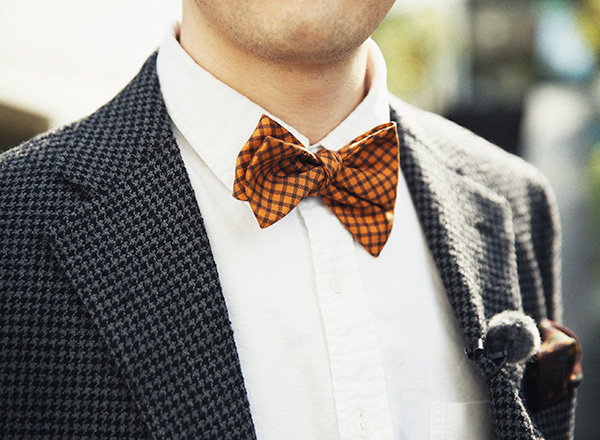 "I was assigned to cover this event as a reporter for an NHK show I appear on. I was born in the US and grew up in Tokyo, so I don't have many ties to the UK, but with this tweed outfit I think I've somehow managed to achieve a British look (laughs). The herringbone casquette goes well with the houndstooth jacket, and the wool bowtie works well with both of them. I went for a classic look by rolling up my pants to show the socks. It was fun attracting attention from people on the street with all of us riding through Tokyo dressed like this. It's an opportunity for cross-cultural exchange, too, so I'd definitely like to participate next year!"
---
Jan / Musician
"I'm participating for the first time because I was invited by Kitagawa-san, a designer for the fashion brand Atelier Den in Nagahama in Shiga Prefecture, who is like a father to me. It was a great feeling to be able to ride through the center of the city on the Bianchi I always ride. My tweed bag matches the bicycle's signature celeste (sky blue) color, and Kitayama-san made these tweed cycling clips for me. The necktie doesn't make things too stiff and formal, which is one of the great things about tweed. If I ever get the chance, I'd love to do this again with Kitayama-san and my friends from Shiga."
---
Shingo Iguchi
"I love classic bicycles and have 14 of them, but the one I'm riding today is one of the older ones. It's an English bicycle from the 1920s, and the simple, retro look has a quality I just love. I have participated in the Tweed Run twice in Nagoya, but the scenery was completely different in Tokyo. The city has flair, and no matter where you look it would make a great picture. I wanted to make sure my clothes were good enough for these surroundings, so I chose these Italian goggles and these saddle shoes I've been wearing for about ten years thanks to full sole repair."
---
Tomoko Nozaki / Model
"I've always loved British fashion and music, so I was really excited about this event. Tweed is a staple of fashion, but to be honest I didn't have any tweed in my wardrobe. So this is the first time I'm wearing tweed since I graduated from high school. The key to the outfit is the subtle layering that's not too gaudy. There's a vintage Chanel vest I bought at Vinivini in Daikanyama peeking from the coat's lapels, and only a little bit of the lace skirt is visible under the coat. I tried to make it as simple as possible to highlight the tweed's unassuming expression. They're not the best for pedaling a bicycle (laughs), but I really wanted to wear these cute enamel shoes with this."
---
T-Michael / Designer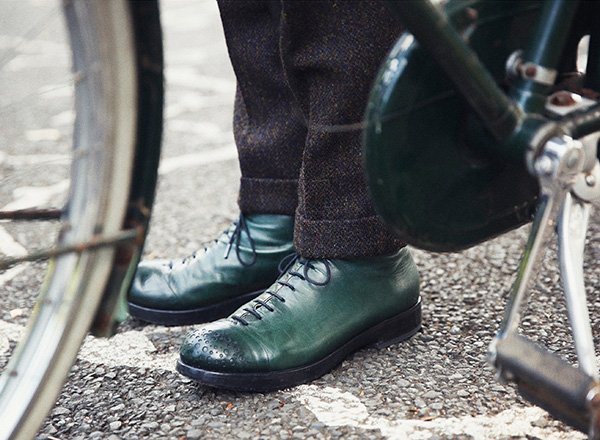 "The weather was too nice, so it was a little hot, but the breeze felt great while we were riding. It was wonderful to be able to ride wearing clothes I all designed myself, including the tweed gilet and pants. I love British green, so I used it to match my bicycle and my shoes. I designed the buffalo horn eyewear, and it was handmade by a craftsman in Germany. The natural material goes well with the texture of the tweed and it's not a design you get tired of, so I'm very happy with them. If I get the chance to participate again, I'm looking forward to putting just as much thought and energy into fashion as I did this time."
---
Hiroshi Nagasaka / Company employee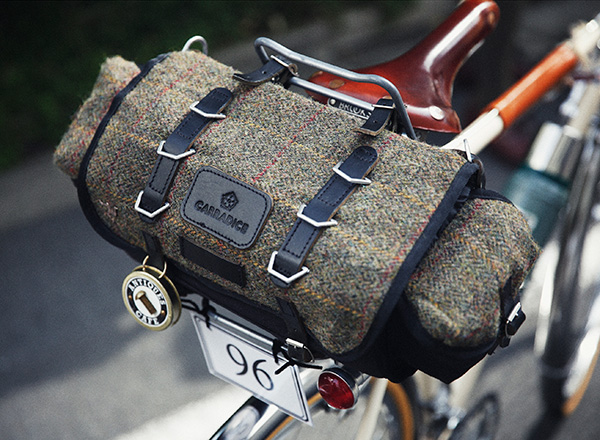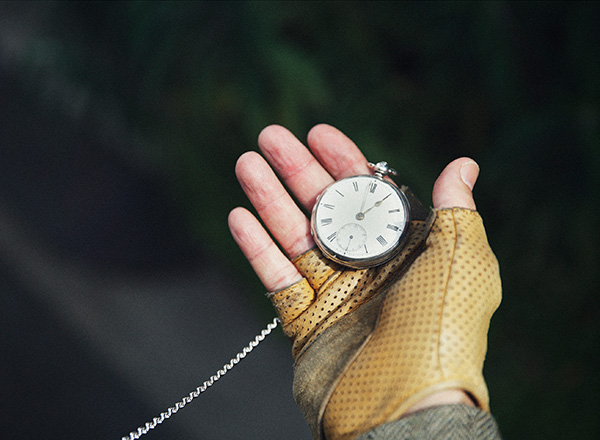 "I decided to put on British airs and go with classic pieces from top to bottom. I paid a lot of attention to hard-to-notice details, like Carradice tweed saddlebags and a British pocket watch tucked away in my pocket. This is my first time participating, but even though I went this far with my outfit the embarrassment goes away when we're riding through the streets together—I might get hooked on this. Tweed is something I wear almost daily in the winter so I thought I was used to it, but it gets a little hot when you pedal a bicycle (laughs). Next time I participate, I'll dress a little lighter."
---
Eri Arakawa / Restaurant business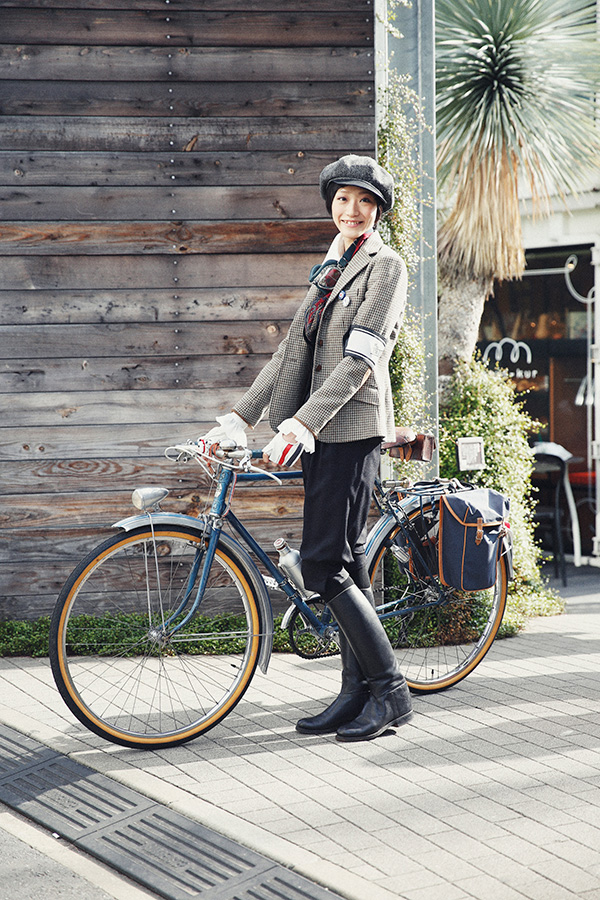 "Ever since I heard about this event from a friend about a year ago, I really wanted to participate. I've been collecting clothes and accessories for this little by little, so it's an amazing feeling to finally be doing it! The main piece is a tweed jacket I found at a flea market in Roppongi. I was so happy to find the ideal color and size. For accessories like the scarf, goggles, and casquette, I selected things that go with the jacket. I borrowed the bicycle from a friend, but with retro touches like a pocket watch attached to the handlebars, I think it's perfect for today's event. I started commuting the roughly 6km between my home and work by bicycle to build up strength, so I was able to make it to the end of the event without getting exhausted.
---
Alexander Helle / Creative director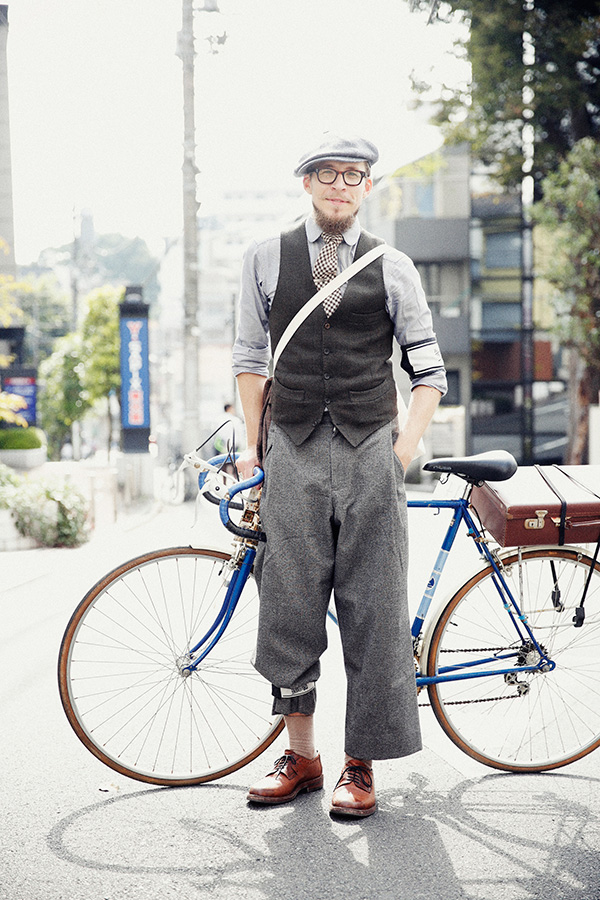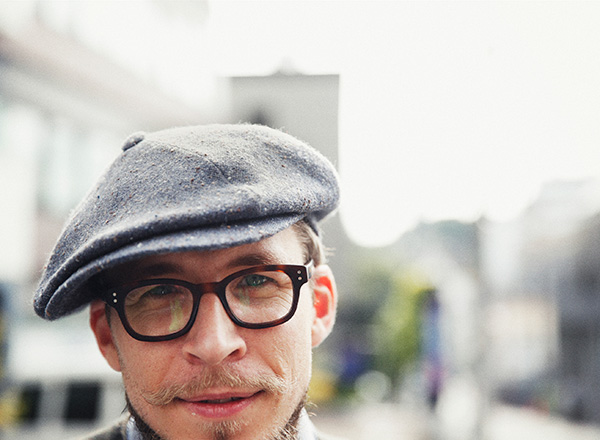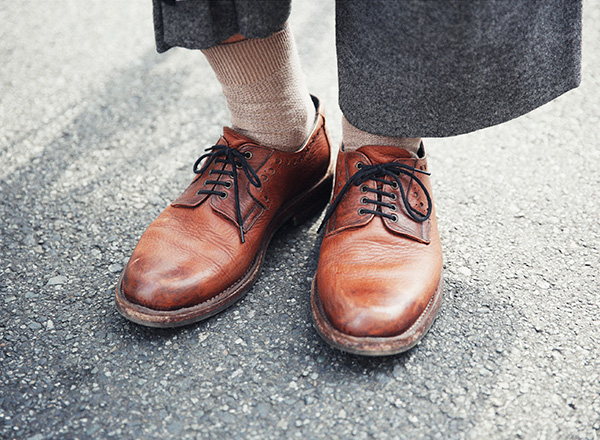 "This is my third time participating. This time of year is warm enough to feel great when cycling. Winter is in full swing in Norway right now, so there's no way you could ride in light clothes like this (laughs). For today's ride I wore pieces from Norwegian Rain that I designed together with my partner T-Michael, and I fell in love with our clothes all over again. They're the prefect balance of comfort, function, and style so there's no discomfort when riding and they look great. I'd like to keep making clothes like this. I think the retro eyewear and the waterproof shoes we made through a collaboration with Grenson go well with the classic clothes."
---
Shigeru Higuchi / Cyclist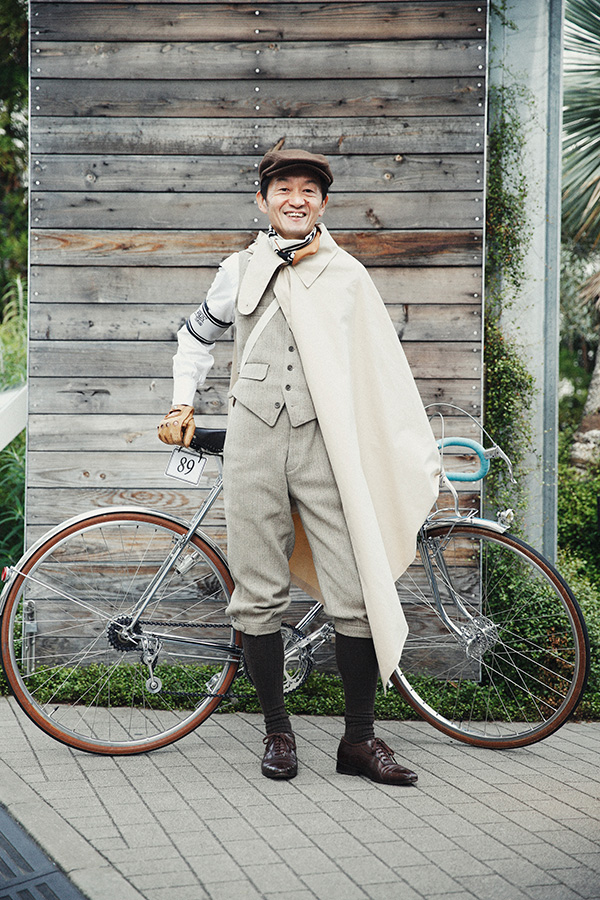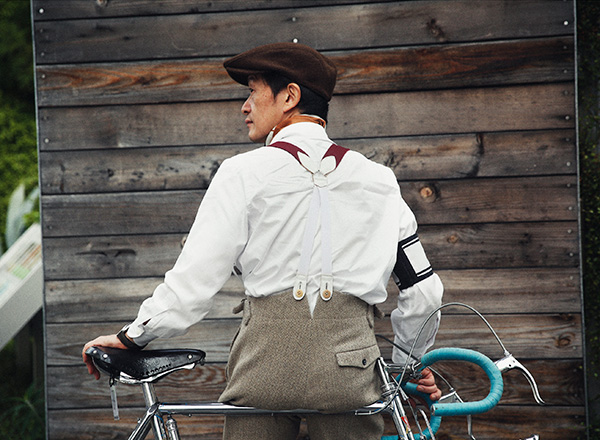 "I participated on my pride and joy, a bicycle I custom ordered from the revered French manufacturer Alex Singer for ¥1 million. I waited for a year and a half after ordering it, but the comments and praise I got from the other participants made it all worth it (laughs). The Idéale saddle is well-known among bicycle lovers, and I was happy to get comments from people who noticed it. In terms of fashion, I got a new Mackintosh cape to wear today. I'm also wearing suspenders so it still looks stylish even if I take the cape off. I love French things, but I made an effort to go for a more British feel today."
---
Tomoko Hoshino / Textile creator
"I've participated in the Twheel Run in Tochigi twice, but this is my first time at the Tweed Run in Tokyo. The streets are completely different. The atmosphere is laid back in Tochigi, but Tokyo is just spectacular. It felt wonderful to get dressed up and ride through the city. I love burgundy, so I've used it throughout. I paid a lot of attention to details, such as a Ricoh film camera I'm using as an accessory and a hat pin I found at a vintage clothing store, to put together my own tweed style."
---
Hirofumi Kurino / United Arrows, executive committee chairman for the Tweed Run Tokyo
"The event is gaining acceptance as a fall tradition, but the weather was especially good this year, and I was very happy to see everyone looking so refreshed as they rode. The familiar sights of the city's central areas—Yoyogi, Harajuku, and Gaienmae—look completely different from the seat of a bicycle. Getting to ride while dressed up in great clothes centered on tweed, a traditional material, is what makes this event so wonderful. For me, today's theme was brown and red. Based on the belief that "He who masters color masters style," I always begin thinking about an outfit by starting with color. Today the highlights are the red peeking out from the J-B-J (Jupe by Jackie) tie and the matching red on the bicycle. The gilet and pants are by J-B-J.PJ (Jupe by Jackie Project), a collaboration between J-B-J and United Arrows. The design with its signature embroidery has such depth, and is truly one of a kind. I feel lucky to be able to ride with such priceless clothes."
---
SHARE