The Creativity of KOCHÉ, Let Loose on Harajuku-Street.
After a striking debut in 2014 the fashion brand KOCHÉ has been the focus of attention from the fashion industry the world over. The designer Crystal Koché (henceforth Koché) knows satisfaction but refuses to stay still and continues to create, with her "COUTURE TO WEAR" bringing together a mix of haute couture and reality. She recently met with friend Mr. Kurino to discuss her first Tokyo show, her thoughts on the coming together of the cultures of France and Japan, and other relevant aspects.
Photo: Shunya Arai
Text: Chieko Sugawa
Fashion and reality mingle on the mixed-up streets of Harajuku's 'Tonchan-Street'
Kurino: Did you go to the after-party last night?
Koché: I did. I wanted to congratulate everyone. Last night's show was a huge success so I was very happy. Did you enjoy it?
Kurino: It was absolutely fabulous. There were even parts that I liked more than the show in Paris. The Paris show combined amazing direction with very dynamic choreography. This time in Tokyo had an even more romantic feel to it.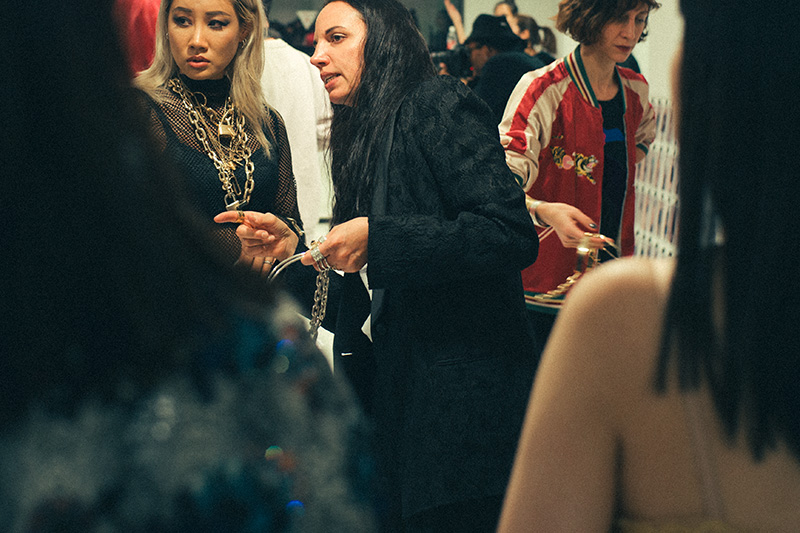 Koché: Being able to work with the choreographer Julian, who is also a director, enabled us to achieve a more emotional finishing for an extremely moving result. It had a slightly magical, mystical feel to it.
Kurino: The choice of Harajuku's "Tonchan-Street", the holy-land of street fashion and a place where the feel of Japan still remains, was a perfect fit for your concept of street and couture. At the end of the show all of the models walked down the runway holding Japanese lanterns, didn't they?
Koché: That's right. I got goosebumps when they walked out on to the runway and my heart was beating hard. It was like some kind of mystical presence had come upon the runway. After long discussions about how to bring in aspects of Japanese tradition and culture through use of Japanese-style elements while adding the energy of Paris we settled upon this idea of the lantern.
Kurino: And at the ending they walked particularly slow, didn't they?
Koché: We wanted the people who came along to be able to enjoy themselves while getting a good look at the clothes so we developed it, so that the models would slowly come to a stop in the street after finishing their walks, with all of them gathering together right at the conclusion. Doing it this way meant that people walking on the street could get a good look, and I thought that it might turn into a kind of performance too. All the models came together as one and it was quite lively wasn't it.
Kurino: It had a quite unique, ad-lib feeling. It felt very fresh and new. The idea of having them hold lanterns and slowly marching right at the end was a superb idea. It was very fitting indeed. And the way the models looked, all of them facing the front with a strong look in their eyes, made me feel like I was watching a fabulous movie or a great spectacle of theatre.
Koché:Talking with the models after the show, they all said that experienced it in the same way. The models Delphine and Marissa appeared in both the Paris and Tokyo shows but they felt that they were able to savor a unique moment that was "really magical" with everyone.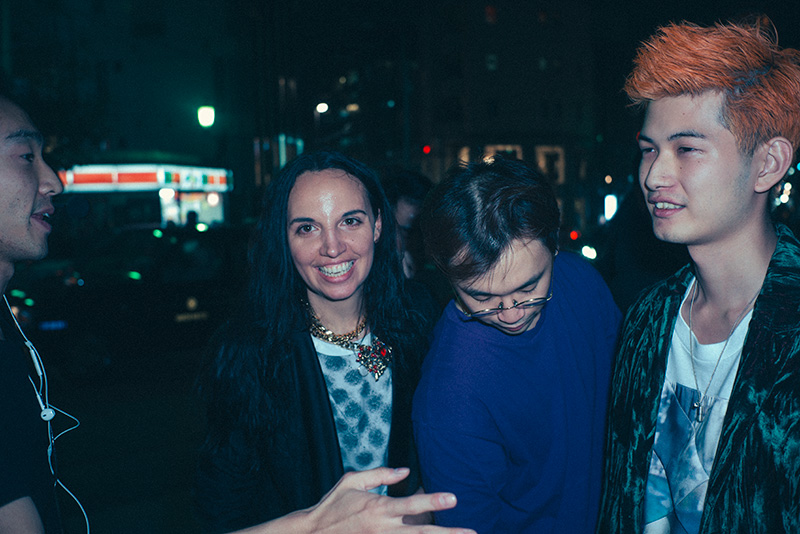 ---
A magical chemical reaction born of the cultures of two countries.
Kurino: Articles about your show are already in the digital news of the fashion industry. The comments are all positive.
Koché: Is that so? Well, I am happy to hear that.
Kurino: Some of the comments state that you showed evidence of the value of holding a show in Tokyo. I feel that in this show you used Japanese models and accessories from the Japanese brand to create a superb atmosphere and develop a show that "could only be held in Tokyo".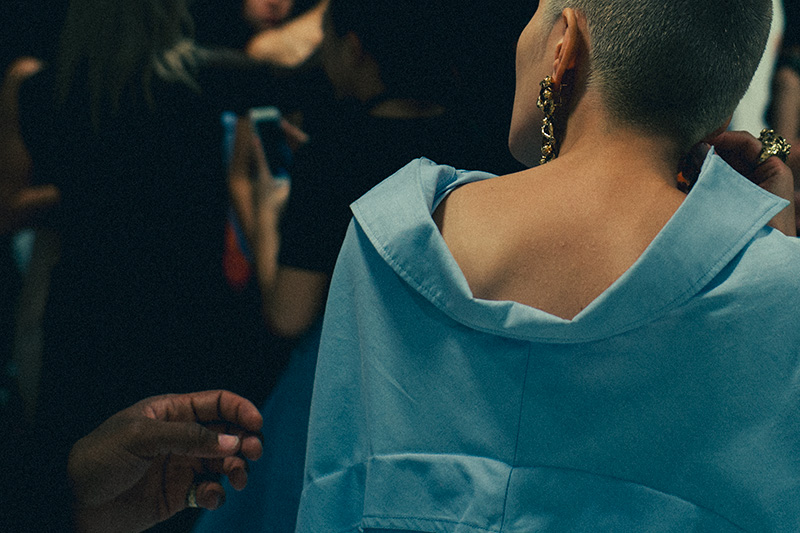 Koché: I really do think that it was a great chemical reaction. But the best thing for me was that it was not simply a project; it was a team project carried out collaboratively between France and Japan. The way you, the H Beauty & Youth team, and the kids in Paris and Tokyo came together to merge two different cultures into one resulted in a really fantastic chemical reaction.
Kurino: Yes, it was a great chemical reaction, wasn't it? Right before the show Julian said to me that he was "waiting for the final moment of magic" and the show really did provide the magic. That gave the show that something extra and resulted in a moving mix of cultures.
Koché:In our constant search for the new me, the team and Julian came together as one. We don't like just repeating the same thing. The best thing for me was to discover that it is possible to come together as one and create something even more powerful by collaborating between two countries.
---
Superb casting which weaves together France and Japan.
Kurino: Those who saw the show also noted how great the casting was. You did bring some models from Paris, didn't you?
Koché: Yes, I brought Delphine and Marissa. Delphine had lived here for about a year in the past so she said it was really great to be back. Part way through the preparation we began to think that we would like to bring in some extra bodies so we went out casting on the street. We invited people we saw on the street to join the show and asked our friends to introduce people to us. We only had one day on a Saturday but things ended up going really well.
Kurino: You used people that inspired you, regardless of nationality or genre, didn't you?
Koché: As you know, the fact that all of the models in my shows are not stereotypically beautiful is important. They are all different. By way of some miraculous chance meetings we were able to bring this show to realization.
Kurino: You produced a very unique and individual atmosphere. Yes, definitely magical. The reason that I invited you to Tokyo was that I wanted to change the atmosphere of the Tokyo fashion scene. You have been successful in starting a revolution in Paris already, with your unique casting and use of public space. You have this power to beautifully destroy existing rules and structures and I respect you for that. I wanted you to do the same in Tokyo and you did that in an astounding way.
Koché: It makes me very happy to hear that you feel that way. I want to convey to them that we can do it together, that if you believe in your dreams and ideas you can change things. I want to remain faithful to my ideas and to myself.
---
The process that cultivated young talent and brought you to where you are today.
Koché: After graduating from Central St. Martins in London I worked for a long time for some big brands that I greatly respect. I started to develop a stronger desire to create my own world. Then, I realized that the thing that I wanted to do most was to do new things that didn't yet know. I believed in my dream and just continued to create; to come into contact with the world. I believed in my ideas and kept driving them forward. That's why it is so much fun now.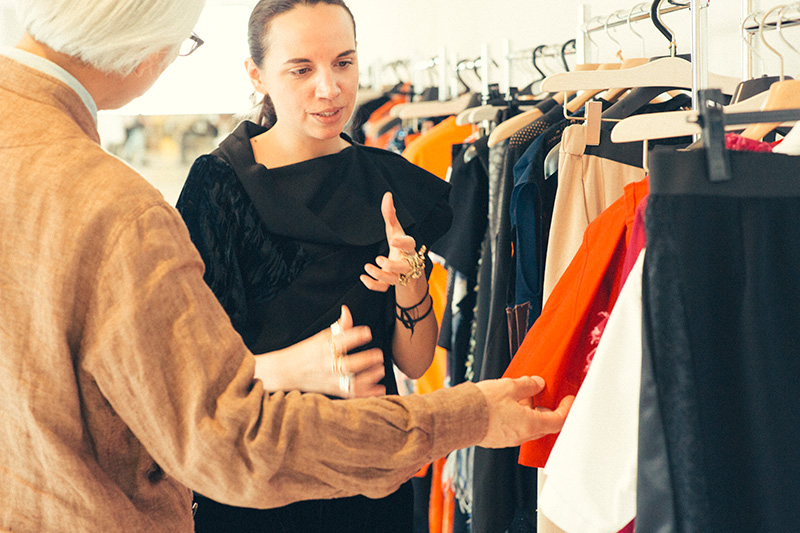 Koché: To keep hold of such thoughts and bring them to life, what I realized after holding a show in Tokyo was that the place called Tokyo is a world in itself, a place where people interact. I had this feeling that wherever there is a global energy we will be able to revolutionize things.
Kurino: Yes, that's exactly what I wanted to ask you today. Looking at the career you had at many big brands many people would wonder what you left that world. To have this experience, to start your own company, to create your brand, and to create your own world – that's what you wanted to do wasn't it? There are people who do really amazing work, but there are also people who are caught up in the big names.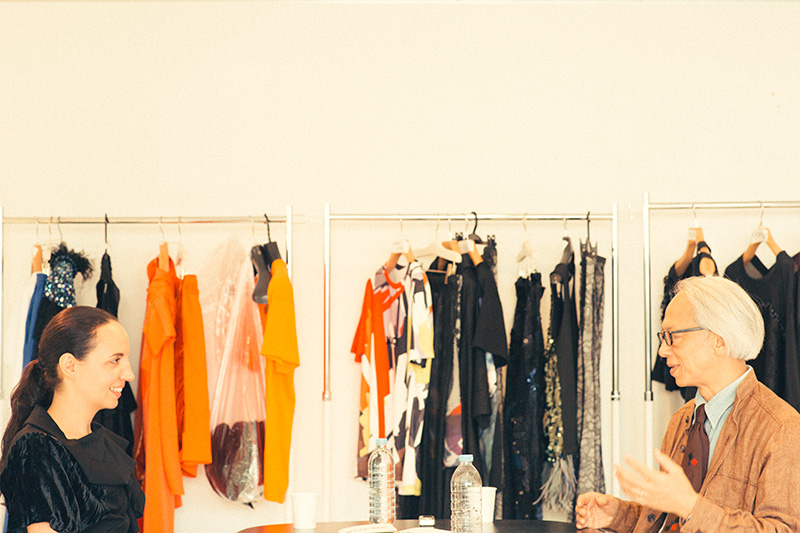 Koché: That's right. I always wanted to do things my own way. I think that the fact that I had my own opinion was very important. I paid my own way through Central St. Martins, which meant I worked week nights and Saturdays. And while this meant that I did worry about my studies I also learnt how to do things my own way. I think that it was a good experience. Through that experience and conditioning I have come to be able to achieve the things I am doing now. I gained confidence in the things that I like and the things that I make.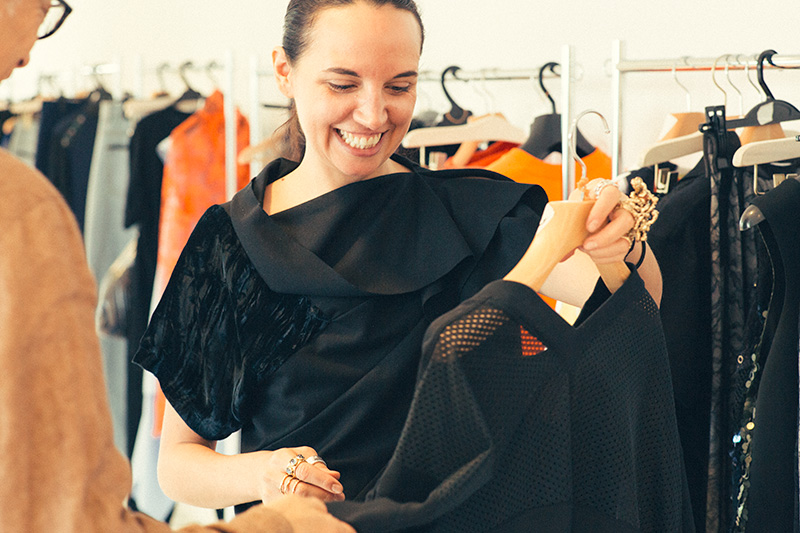 Kurino: Are there any designers making their own way that you take as examples to follow?
Koché: Those I take as examples are the independents. Dries Van Noten, Rei Kawakubo, and others – those who got where they are today by doing what they want to do.
Kurino: Those people are definitely independent and are forging their own unique pathways with the same kind of spirit aren't they? I totally agree with you.
---
My own rules to enable me to continue to create.
Koché: I worked within the system for a long time and I consider myself lucky that I understand it. Within that system it is always extremely important to understand people. It is essential to understand everything if you want to succeed, and to bring in people that you think are good. I don't really want to turn everything into a rule.
Kurino: I see. You build a new world and change the rules. But you don't just change the rules. You destroy, not subvert, the old world in order to create a new one.
Koché: I don't like a "no future" type of negative feeling. The shows in Paris and Tokyo both had the same meaning and message, I think. To bring an open-minded and positive message to the youth of today was a very important decision for me. It is true that there are many problems in this world. I want to tell them that in these times they can make anything they want, that they can build there own worlds. I wan to build new worlds with people with other perspectives, from the worlds of film, music, and art, for example.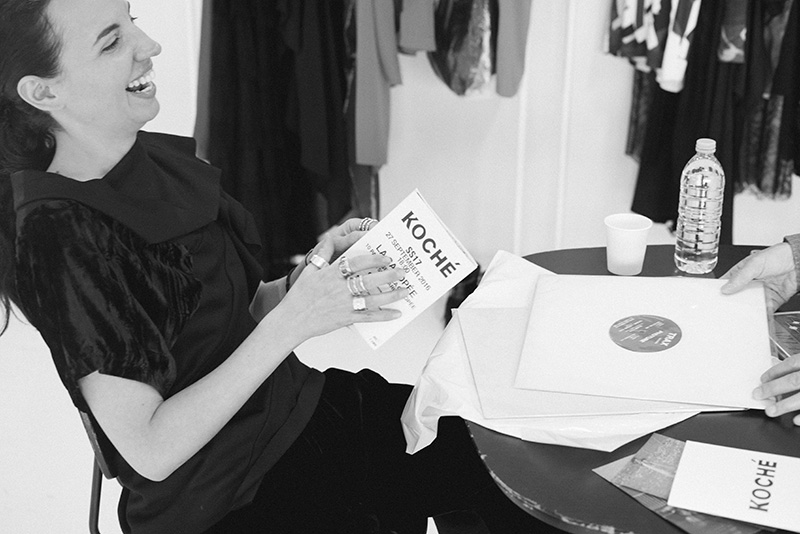 Kurino: And it's not just the creation of worlds, I believe you are a good role model in terms of how to live your life and how to have hopes and dreams. The world is full of violence. There are rich people and extremely poor people. There is this feel that there is no future in the world of the youth, that it is getting more difficult to have hopes and dreams. But through your Tokyo show you proved to us that if there is something that you want to do and if you have the courage to smash down the door you can keep moving forward.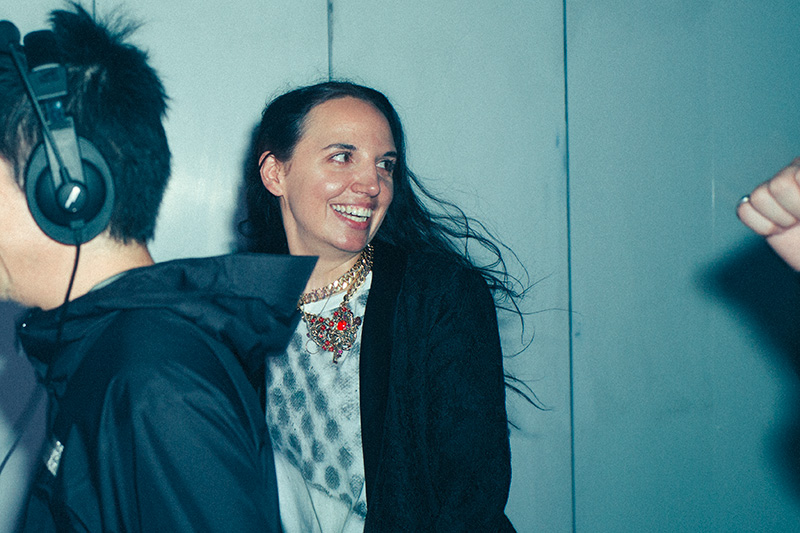 SHARE