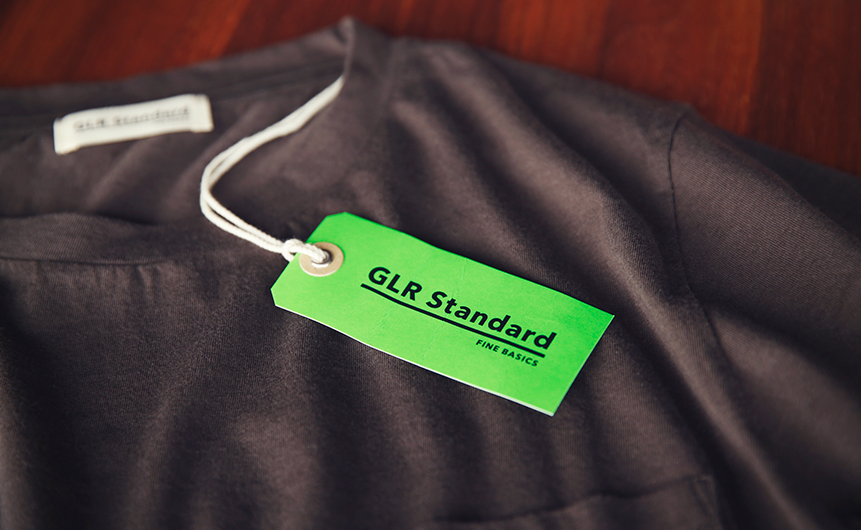 Made-in-Japan clothing to wear and treasure for a long time.
"Green label relaxing" provides just-right fashion to match various lifestyles. A wide selection of original items. Did you know that it includes a special clothing line conceived by the company staff? Let's talk with brand director Toru Dodo about the concept of their made-in-Japan "GLR Standard" products.
Photo:Takeshi Wakabayashi Text:Masaki Hirano
Started with our staff wondering, "Isn't there anything more we can do?"
– First of all, tell us about the "GLR Standard" line.
Dodo: I believe it started in 2013, toward the end of the fall-winter season. The "green label relaxing" (GLR) line had been around for a long time, and it was struggling under the current market conditions. The staff started to feel a sense of crisis over the fashion line's fading appeal, and the fading passion for making clothing. There was too much focus on short-term sales, so they started to wonder whether they were providing customers with clothing that was as appealing as it was supposed to be.
– I see. I have heard that over 60 percent of GLR are original products. So did your staff have doubts about what all those products should be?
Dodo: Yes, we did. Multiple staff members expressed doubts about those products: "Isn't there anything more we can do? How can we develop a standard item as an appealing, original product that GLR is supposed to carry, and how can it appeal to kids and adults alike? Is the timing right for such products?" We got many comments like this. This was the beginning of the "GLR Standard."
– What was in the initial product lineup for GLR Standard?
Dodo: We had a variety of products like plain-color T-shirts with pockets, bordered T-shirts, and chinos, but what we really wanted to offer first and foremost were sweatshirts with a fleece lining made by loop-wheel knitting machines. These machines can only knit about one meter per hour, but the result is an airy and fluffy texture. These machines can be found only in Wakayama and nowhere else in the world. And so we naturally gravitated to the "Made in Japan" idea.
We want to offer the "real" standard clothing that you can wear even five years from now.
Dodo: We searched all over Japan for clothing factories and clothiers. For dress shirts, it was Nishiwaki, Hyogo Prefecture. For denim, it was Okayama. The trench coats we have here are made in a factory that used to make products for a well-established overseas brand. The factory possesses very sophisticated technologies and know-how. I'm totally astonished at how they can produce such detailed parts.
– Which items in particular strongly incorporate your "Made in Japan" concept?
Dodo: We have a dark blue blazer that uses a material made by Miyuki Keori., Ltd., a woolen fabric manufacturer with a 110-year history. It is just fantastic. The smoothness of the material makes it outstanding. When you put your arms through the sleeves, you cannot begin to describe how great it feels. Right now, under the United Arrows brand, the blazer is made in a Chinese factory where they also make suits and jackets, but next year we will transfer the manufacturing to Japan.
– When you do that, wouldn't the price increase?
Dodo: Yes, it will increase by about ¥10,000. However, we seek higher quality and cherish Japan as a manufacturing center. We want to offer "real" standard items that customers can still wear even five years from now. To this end, we have committed ourselves to meeting people's desire for feeling opulent with high quality clothing that can be worn proudly for a long time. This would ultimately establish our brand's concept and help us create "GLR Standard" products.
– Speaking of "concept," I see that you have joined the "1% For the Planet" project in April.
Dodo: This movement was started by a non-profit organization founded by Yvon Chouinard, founder of Patagonia, Inc., and by Craig Mathews, owner of Blue Ribbon Flies. We joined this project in April. For the preservation of the global environment, we donate 1 percent of GLR Standard sales to environmental groups. All GLR Standard products in stores bear a tag indicating, "1% FOR THE PLANET."
– United Arrows is touting three key words, "hito, mono, utsuwa" (person, thing, and container)." I think "mono" means "products," but what does it mean to you?
Dodo: Rather than what I think, let me explain what it means to us collectively. "Mono" is a major motive behind the development of fashion. Perhaps we can call it "passion" instead. Our passion for fashion and for creating things. The tangible result is "mono." We have been developing fashion designs while believing that it can make people happy. We are most interested in the shape of the pocket and how a single jacket can enrich a person's daily life.
INFORMATION
PROFILE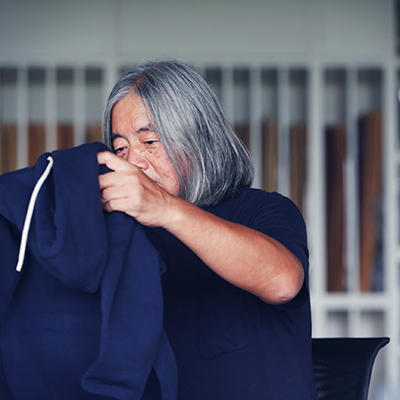 Toru Dodo
Former creative director of an interior design shop. Creative director of "green label relaxing" since August 2000.
SHARE