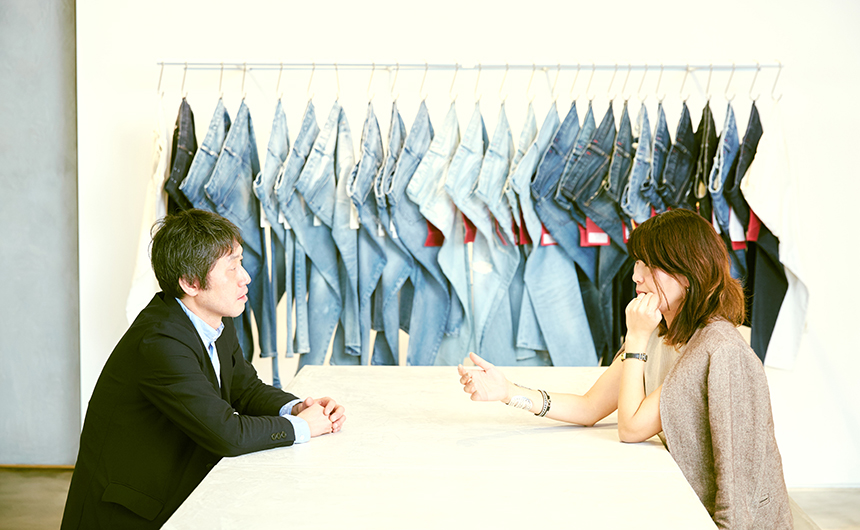 Dr. Denim's Yuji Honzawa and 6 (ROKU)'s Eriko Yoshida – A pair that embodies affection.
In the 2013 Autumn/Winter season, the 6 (ROKU) label was born out of Beauty & Youth. Its elegant, casual, and grown-up style centered on the six elements of sports, military, ethnic, marine, work, and school gained popularity, and the its exclusive shop is finally slated to open this spring. For this interview, we invited Yuji Honzawa, designer for the celebrated RED CARD® brand who collaborated on the new timemachine® denim brand developed by 6 (ROKU) to speak with Eriko Yoshida, the director of 6 (ROKU). They spoke about their thoughts on fashion.
Photo_Aichi Hirano Text_Hatsuki Shimomura
Their awakening to used clothing and roots in style.
——When did you first encounter used clothing?
Yoshida: I was especially sensitive to fashion trends in the late 1980s and grew up in the Shibuya-casual ("Shibu-kaji") generation. I got obsessed with used clothing in my junior high and high school years. I'm still the same today; a lot of the themes and designs for each 6 (ROKU) season are inspired by used clothing.
Honzawa: When I was a student, everyone was into the "Ivy look." I got into old clothes starting with 1950s-era denim. That's how I ended up becoming a denim designer.
Yoshida: You're dressed pretty preppie today. Don't you wear denim?
Honzawa: It's my strategy for looking young lol. I hardly wear denim anymore. Used denim is sort of the subject I study. I don't know when [a trend] will return, so I stock up on a lot of "research materials" and my drawers just keep getting fuller.
——Mr. Honzawa brought a 1985 edition of the magazine "Popeye" from his personal collection for the discussion today.
Yoshida: You've kept this magazine in excellent condition. I'd never have guessed it's 31 years old.
Honzawa: "Popeye" was one of my bibles. There are styles that go well with today's trends, like wearing this kind of oversize clothing. It also says to go to Kinokuniya, National Azabu, and MEIDI-YA for high-quality suits lol.
Yoshida: Back then, I learned about culture and spirit from magazines, including clothing, food, and living. There wasn't any Internet at the time. I collected information from magazines and had to go to stores on my own. I went to a lot of used clothing stores, like DEPT, Santa Monica, and Chicago.

Yoshida's used denim – found through her own individual searches.
Honzawa: We accumulated a lot like that, spending time and money to do so.
Yoshida: If we trace the origin of the six elements that form the core of 6 (ROKU), 「sports」, 「military」, 「ethnic」, 「marine」, 「work」, and 「school」, we see that the universal theme of these roots is "vintage." Before becoming the brand director, I was a buyer for designers for some time and I used to wear a lot of high quality brand clothing. But even then, I combined it with vintage clothing I had on hand and enjoyed wearing high- and low-class clothing at the same time. I really like mixing things. That's the core of 6 (ROKU)'s manufacturing and the styling it offers.
---
The first exclusive 6 (ROKU) shop and the 2016 Spring/Summer collection
—— The first exclusive 6 (ROKU) shop is finally about to open. What kind of shop is it going to be?
Yoshida: As in the past, it will be made up of original and purchased used pieces, centered on 6 (ROKU)'s six key elements. Fortunately, there have been good reactions to the mix-and-match coordination of used clothing in our existing store. In our first location in Shinjuku, we have abundant variety that takes careful consideration of balance. We will also continue to focus on purchasing for menswear as before. There are two patterns of clothing: items that can be put out, unaltered, in a standard size that feels like you'd be able to wear it, and items that are remade. Our focus is on American goods, but we plan to try expanding into European vintage brand accessories that can be stylistic focal points.
——Tell us about your creative themes and style icons.
Yoshida: When we decided to start 6 (ROKU) in 2013, the root of the brand was the theme of "women who look good with red lips," reminiscent of Marilyn Monroe. We have continued to offer unadorned items that can be worn comfortably, like Marilyn herself. The cover of our 2016 Spring/Summer visual book is also red, and a chic red is used a lot as a key color in this season's original clothing. Throughout this season's "Low-key Alternative" theme, our image has been that of a strong, alternative-minded woman who is low-key and unassuming.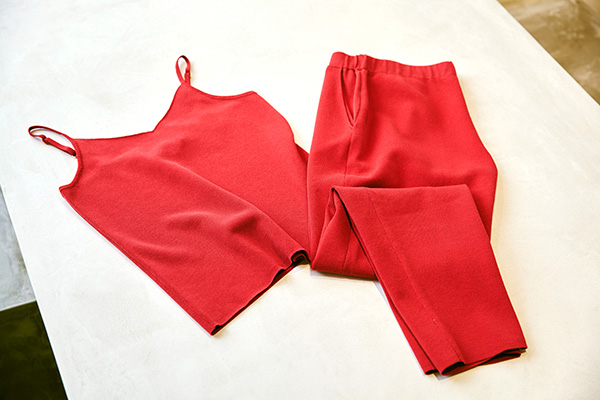 ——Could you give a general overview of the 2016 Spring/Summer collection?
Yoshida: Listening to customer feedback, I had the strong sense that they are looking for items that are hints about the next trends. Partly because we are about to open the exclusive shop, I thought about going on the defensive, but I directed the project with a desire to be just ahead of the curve. For example, the tweed jacket I'm wearing today is a new item inspired by used clothing. It forms a three-piece with the pants, as well as the bustier inside made with the same fabric. In any case, I really wanted it to be an unconventional brand that could be styled with used clothing. And this season is distinctive for the numerous feminine items, such as camisoles.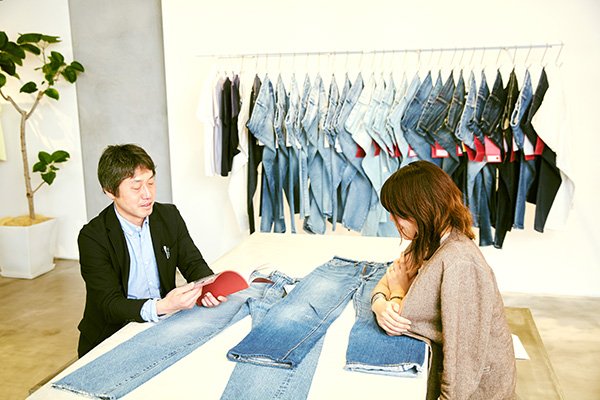 Honzawa: In the visual book, the looks are casually combined with Polo Ralph Lauren and DKNY hats. Ms. Yoshida is really top-class lol.
Yoshida: I am confident and our sales are in a good position where there is balance between what I want to make and what our customers want to wear. I am always sure to go to the store at least once a month to talk to staff and learn about customer feedback through Instagram. There are high expectations for the timemachine® denim brand we made in collaboration with Honzawa, and we get questions, such as people asking when we'll get something in stock as soon as we post a picture.

6 (ROKU) 2016 Spring/Summer Catalog
---
timemachine® – a high-quality denim collaboration between Mr. Honzawa and 6 (ROKU)
——You collaborated before timemachine®, right?
Honzawa: The first time was in 2008, with Beauty & Youth.
Yoshida: I gave him a pair of my own vintage straight Levi's and he redid them for me.
Honzawa: I seized the opportunity brought by that collaboration to create RED CARD®. I could never have created it without Ms. Yoshida.
—— What?!
Yoshida: It's the first time I'm hearing about it, too lol. I'm honored that you'd say so. There is kind of a sense that denim is a man's world and that women don't understand it, but Mr. Honzawa accepted me happily, so I asked for him to collaborate when we were launching 6 (ROKU).
Honzawa: At that time, she asked for "boyfriend denim." Just one style, and somewhat modest lol. I made 100 each of long and short pants.
——And that's what led to timemachine®?
Yoshida: That's right. On our third collaboration, we launched timemachine® as a full-fledged brand. It started in Fall/Winter of 2015 as an exclusive item only available from 6 (ROKU). Mr. Honzawa is really, truly passionate lol. As much as I want to return that passion, the gap between the ideal and the reality was a little challenging. On its own, 6 (ROKU) is mostly made up of core customers, and I feel that we've finally found a fit.
Honzawa: It actually took over three years to make timemachine®. I'll never forget the start on May 20th, 2013. We were communicating back and forth over and over through Excel documents. We had a few setbacks, but what's great about Ms. Yoshida is that she's clear about what she wants to do. That's not something people can normally do.
Yoshida: In our first catalog, we made the 701 VINTAGE from the '50s into an icon. It's a denim item with a high waist and a silhouette that beautifully hugs the hipline. It was an easy choice in a time when simple tops were in, and it really expresses femininity. Among our customers, there is a gradually growing awareness of the high-waisted denim that 6 (ROKU) offers, and we were getting feedback that they wanted to know more about the denim that 6 (ROKU) recommends. So, I wanted to incorporate a facsimile of the 701 that Mr. Honzawa was working on and asked timemachine® as well. I had him use a pair of my own Levi's® 701s that I'd bought in my teens and kept in my closet for all these years.
Honzawa: Levi's 701s were Levi's first jeans for women. They got famous when Marilyn Monroe liked them and wore them, and I never thought I'd end up working with 701s. Now, all you see is 701s and most people don't know about Levi's® 501®. That's the reality. So, timemachine® is for super-advanced users.
——How many styles of timemachine® are there?
Yoshida: There are three styles of bottoms, including the high-waist silhouette, the high-waist slim silhouette called "606 VINTAGE" and the flared silhouette capris called "646 VINTAGE." There are also two styles of jean jackets, for a total of five styles.
——Since you started in the middle of last October, have you basically been going through a cycle of selling out and restocking?
Yoshida: Mr. Honzawa's astonishingly passionate, too lol.
Honzawa: We sew together totally unprocessed, raw denim and intentionally show the twists in the edges to give off a vintage look. It requires techniques that could not be replicated at a regular factory, so we asked a former Levi's Japan factory to make them. The craftsmen's attention to detail is first-class. They add paint or small scratches… They do every bit of the process by hand. It takes three times as much effort as usual denim work, so it cannot be mass-produced.
Yoshida: It's really very deep. I'm pleased to say that timemachine® products are so popular that they fly off the shelves as soon as we stock them.
Honzawa: The used clothing in Japan is of the best quality and quantity anywhere in the world. I think that Japan's brands are the best as well. Ms. Yoshida knows about the goodness of used clothing and the excellence of made-in-Japan craftsmanship. 6 (ROKU) and timemachine® are brimming with her top-class attention to detail.
INFORMATION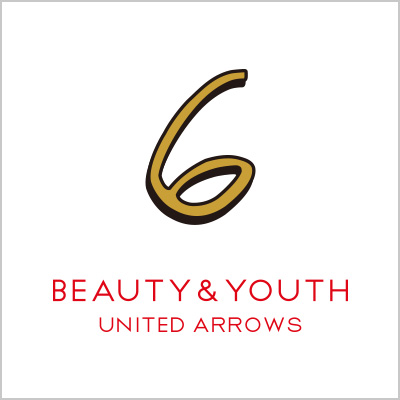 PROFILE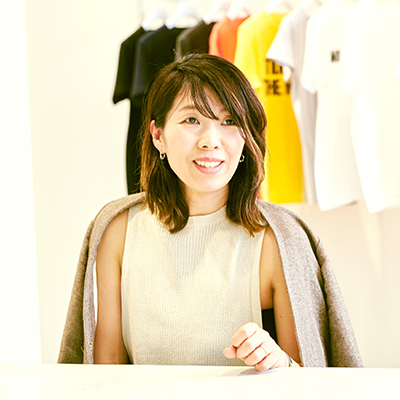 Eriko Yoshida
Entered the company in 1995. After working as sales staff in United Arrows' Harajuku and Yurakucho branches, transferred to the Products Department in 1999. Became involved in launching Beauty & Youth United Arrows after experience as a buyer and MD. Then, after giving birth twice, she currently balances raising her children with work as the director of 6 (ROKU).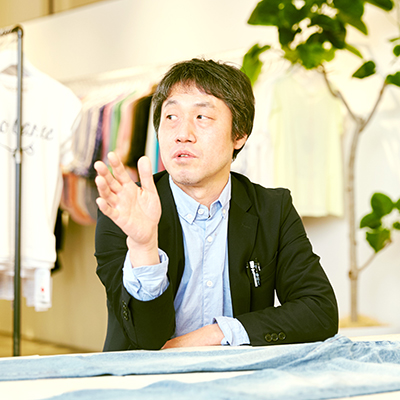 Yuji Honzawa
In charge of the Edwin 503 and Levi's 501® model change for the two major denim manufacturers, Edwin and Levi's Japan. A part of Japanese jeans history not to be overlooked. Struck out on his own in 2005. Started his own original brand, RED CARD®, in 2009. Involved in denim consulting and production for companies and brands.
SHARE