Fashion model Ruka's guided one-day tours of Tokyo : The friendly downtown atmosphere of Asakusa
With a beguiling face and an outstanding personal style, fashion model Ruka has been the talk of Japan, gracing a variety of fashion magazines. In the brief year since coming to the Land of the Rising Sun from China, Ruka has learned to speak fluent Japanese and become a big Japanese culture buff. Here, Ruka maps out a tour of Tokyo's top must-see sites and hottest tourist spots. First up: a tour of Asakusa!
Photo_ Yuhki Yamamoto
Text_ Noriko Ohba
Start your tour by taking a rickshaw from Asakusa's Kaminarimon!
"When one of my friends comes from overseas, this is the first place I want them to see!" says Ruka, as she heads from Asakusa's Morning Market to the Kaminarimon gate at the temple of Senso-ji. Properly known as the "Fujin-Raijin-mon," named after gods of wind and thunder, the gate has remained an enduring symbol of Asakusa. Ruka notes:"You can see the giant paper lanterns even from afar, and they make such an impact when you see them up close!"Today, as always, Kaminarimon is bustling with temple visitors and sightseers! 
Next, we board a rickshaw and roam Asakusa to set a proper sightseeing mood and get a proper taste of traditional Shitamachi atmosphere. Settling into comfortable seats covered in red velvet, with a lap blanket to guard against the cold—it's the perfect start for our tour, and we're finally off!
"Exploring the city in a rickshaw is so fun—everything looks so fresh and new from so high up! Plus, there's no glass like there is in a car, so you can feel the breeze, the soft shaking of the rickshaw, and it just makes for such a carefree experience—I love it! And the rickshaw driver in his happi coat is just such a part of the traditional Asakusa landscape, and it's just like you've gone back in time to old Japan! It's really a must-have experience for tourists from abroad!"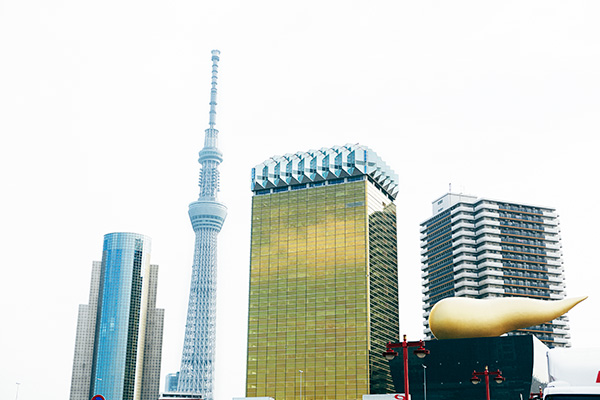 After an exciting ride in the rickshaw, we arrive at Azuma Bridge. Spanning the Sumida River, we can see the faraway harbors where water taxis and houseboats dock. This vantage point is also a popular photo spot for overseas tourists. This, says, Ruka, is due to how "you can see sights like the Sumida Ward Office, the Tokyo Skytree, and the Asahi Flame at the Asahi Beer Hall, all framed against the beautiful red of the bridge—it just makes for one spectacular shot."
For the day's events, daily fashion, fun stuff about Japan, tasty food, and other cool news, follow Ruka on Instagram (@ luluxinggg) today!
When we cross Azuma Bridge, Ruka says, "I want to take a picture!" We leave our rickshaw, and Ruka snaps a selfie! "I really like the sight of the waterfront scenery together with modern buildings like the Skytree; you can see Japan's past and present all at once! This is the place to take a classically Japanese snapshot, so I just had to stop by here. You can even see the scenery on the water from the water taxis—it's just so cool!"
---
Azuma Bridge
DATA
Near 1-Chome Kaminarimon, Taito-ku, Tokyo
---
We board a rickshaw again and head for the Skytree, which stands out clearly against the Azuma Bridge. This time, our host is Hiroki Oya of Rickshaw MATSUKAZE.
Ruka listens intently to our guide's commentary."I studied Japanese culture a lot through manga, but having a guide like this to tell me about traditions and history firsthand is just so illuminating! It gives me the opportunity to study so much I'd never learn myself, so I really have to recommend it to tourists from overseas!"As Ruka speaks, the Skytree looms, and in a flash, it's right before our eyes…
---
Shopping & a break at Tokyo Skytree Town
We arrive in front of the Skytree! Looking from below, the 634 m-high Tokyo Skytree towers over us. Ruka, herself a big Skytree fan, has a yearlong pass to the Sumida Aquarium inside the Tower. "It's so pretty lit up at night, but it also looks cool in the daytime, stretching up to the sky!"
Visitors are charmed by the Tokyo Skytree, whose design evokes the beauty of traditional Japanese architecture. Take a good look at it after a stroll through Shitamachi, and you'll gain a true appreciation of its design, which blends in so harmoniously with the surrounding city.
We say goodbye to our rickshaw in front of the Tokyo Skytree. "I enjoyed hearing all your stories; thank you so much for today!"
---
Asukusa Rickshaw MATSUKAZE
DATA
2-10-2 Kaminarimon, Taito-ku, Tokyo
http://www.jinrikisha-matukaze.com
---
Tokyo Skytree Town also connects to the popular shopping spot Tokyo Solamachi. The plaza hosts a wide variety of over 300 stores—fashion boutiques, department stores, cafes, restaurants, and more. Ruka enjoys strolling about the plaza; suddenly, she stops in front of the BEAUTY&YOUTH UNITED ARROWS location, then dashes in, as if something's caught her eye.
"I like this shop; they have so many classy, well-designed clothes, so I go shopping here a lot. I have my eye on the warmer-looking items!" Ruka says, trying on a coat, taking a scarf in hand. This shop has a café attached, so: "It'd be nice to take a little break from shopping!"
---
BEAUTY&YOUTH UNITED ARROWS
TOKYO SKYTREE TOWN SOLAMACHI
DATA
2F, TOKYO SKYTREE TOWN Solamachi,
1-1-2 Oshiage, Sumida-ku, Tokyo
http://www.beautyandyouth.jp/index.html
---
Moving on, we arrive at the next floor up, which features more fashion shops and department stores. We enter UNITED ARROWS green label relaxing, where Ruka resumes shopping mode, knit tops in hand, weighing which is better. Browsing the store, Ruka says, "They have a lot of ladies' apparel with just the right dash of trendiness, and I found a lot of stuff I'd like for spring!"She smiles, satisfied.
The shops see many guests from overseas; purchases at both UNITED ARROWS green label relaxing and BEAUTY&YOUTH UNITED ARROWS are duty-free.
---
UNITED ARROWS green label relaxing
tokyo skytree town solamachi
DATA
3F, TOKYO SKYTREE TOWN Solamachi,
1-1-2 Oshiage, Sumida-ku, Tokyo
http://www.green-label-relaxing.jp/index.html
---
The last stop of our Asakusa tour, a place Ruka always wanted to see: Imado Shrine
Finally shopped out, we head for our final destination, one that Ruka's always wanted to see: Imado Shrine. Dedicated to the god of marriage, it recently has become fashionable as a"marriage-hunting power spot."Not only is it popular among Japanese women, but it is gradually finding favor among overseas tourists.
Ruka also looks about intently, saying: "I heard they have some really huge manekineko lucky cat statues; I wonder if it's true?" And, indeed, this shrine is manekineko holy ground. We're anxious to press on to the main temple, but we first stop to cleanse ourselves at the holy water pavilion.
We donate an offering, make a wish, and open our eyes…to be welcomed by a huge manekineko right before us! Throughout the grounds, we also find a slew of other cats—paired, to bring luck in finding one's partner, they say. "Wow! There are even more here! They're so cute!" enthuses Ruka, finding a cat-shaped watering can in a space for a tiny flower bed.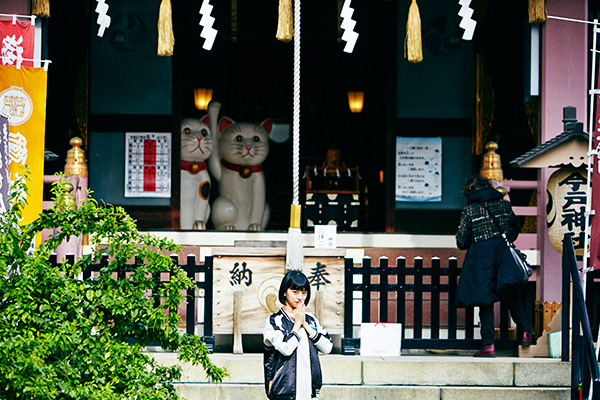 Of course, manekineko are the stars of the votive pictures as well. The votives at Imado Shrine are round, lacking right angles, to encourage metaphorical smooth sailing in relationships and avoid rocky developments."I wonder what I should wish for?" muses Ruka; then in smooth Japanese and Chinese, she writes: "May we all be happy." …Perfect! Surrounded by our many feline friends, we secure our wishes firmly with red string, then bow.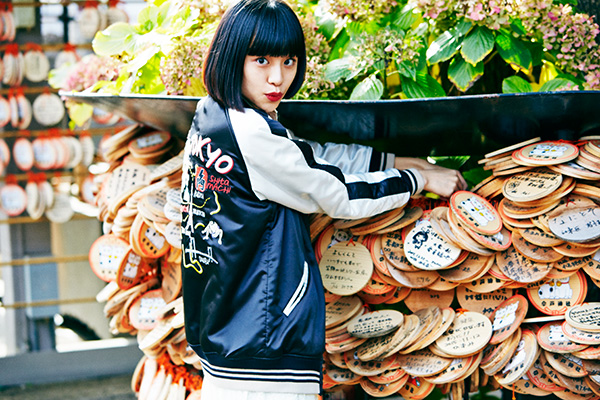 "When I first came to Japan, I loved going to shrines. The moment I set foot in them, it felt like everything changed; it felt so dignified. I was so glad I was able to see so many cute cats at Imado Shrine! It's the perfect capper for a tour of Asakusa—it just ends things so happily. I'd really like to come here again!"
---
Imado Shrine
DATA
1-5-22 Imado, Taito-ku, Tokyo
http://members2.jcom.home.ne.jp/imadojinja/T1.htm
---
Ruka introduces you to the most enticing sightseeing spots of Asakusa. For her next feature, Ruka gives a tour of Ginza. From the down-home atmosphere of Shitamachi, Ruka heads for a more adult side of the city. What does Ruka have in store? Find out!
INFORMATION
UNITED ARROWS LTD. official WeChat has launched.

WeChat ID:UNITEDARROWS_LTD
PROFILE
Ruka
Born in 1992. Made her modeling debut after photos posted by friends on SNS caught the eye of producers. In 2015, she came to Japan, where she since has been featured in magazines such as NYLON japan, SEDA, and mini, as well as modeled in many Tokyo collections. Her life-size photos of her face without makeup on her Instagram(@luluxinggg)have become quite popular.
SHARE