Window displays tinged with seasonal color
Shop windows are something we see in the course of shopping without taking much notice. Just as people change their clothing with the seasons, shops also show us a variety of expressions with these spaces in keeping with the seasons. To guide shops in making more appealing presentations, United Arrows stores must also be completely devoted to shop display production. This is the kind of window display we will focus on here. As our five shops in Tokyo await customer visits, what kind of displays do they present in these spaces that may be seen as the "face" of the store?
Photo_Takeshi Wakabayashi
Text_Yuichiro Tsuji
Winter window displays are lively and fun!
Window displays are a crucial element of a store's composition, just as its products and customer service are. Why is that? It's because these are the first things that meet the eye when customers come to shop. If a display is appealing, it is only natural to want to take a step inside. In order to make that happen, displays are being created to harmonize with the season and city surroundings while making the most of the shop's individual character.
Because Japan is a country so abounding in seasonal ambience, we can, for instance, enjoy various expressive scenes with the same view. Right now it is winter, and everywhere you look, the city is lit up with illuminations for the holidays.
Looking at window displays at such a thrilling time brings to mind lively, fun images that put a spring in our step as we walk along shopping.
---
Windows that blend into the surrounding street scene
The window at United Arrows Ginza store in Ginza, an urban district where tradition meets new culture, greets customers with a display that features a subdued mood.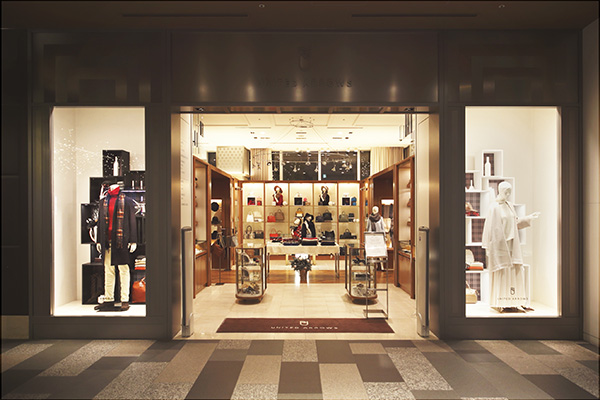 Wooden boxes decorated with a house check pattern are stacked in a formation reminiscent of a tree in harmony with the season. Within the display, items that evoke the personal lifestyle associated with the store's image are neatly arranged. While giving off the feeling of decorous elegance and chic, the composition also manages to convey a sense of playfulness. In doing so, it fits perfectly into the elegant atmosphere of the surrounding cityscape through the coordination of ornamentation that is neither too simple nor too flamboyant.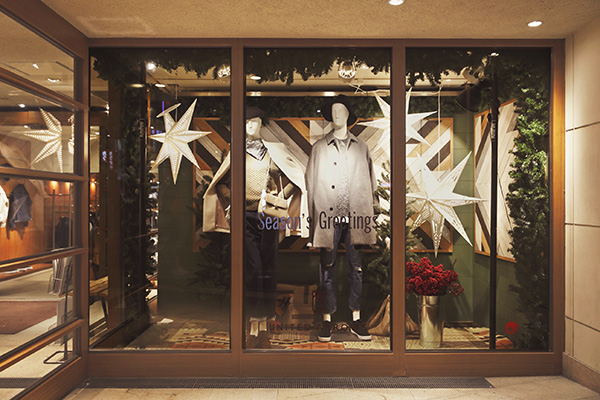 This is the Beauty & Youth United Arrows display at the United Arrows Shinjuku location. A large star-shaped art object hangs from the ceiling, shining bright white as if to light up the lively Shinjuku district even more brightly. The three hues of white, green and red are arrayed in a magnificent balance that naturally expresses the holiday season. This creates a very inviting space for casual wardrobe coordination and combination.
---
Winter traditions to heighten the seasonal mood
A sparkling white tree adorns a subdued, modern store interior decor. This is the Jewel Changes Shinjuku store display. Ornaments made of flowers add lush color to the tree. Boxes and bags in cute wrapping lie underneath, heightening the Christmas mood.
At the United Arrows Green Label Relaxing Marunouchi store, unique illustrations and graphics are depicted, lending a graceful aspect to a simple coordination in white-and-beige tones.
Illustrations of skyscrapers seem emblematic of the Marunouchi district, where high-rise buildings are all around. A large tree is placed boldly in the midst of the scene as the world seems to have changed into winter clothing. At the foot of the tree, characters create a delightful mood, seeming to say, "Let's enjoy this holy night!" It is a happy display that evokes thoughts of a fun Christmas.
The final display to be introduced here is the Shinjuku location of Another Edition. A tree formed out of silver balls and the letters "HOLY" colored with pink neon draw the eye to a display that is simple yet edgy. It invites us to enjoy a window display that only this shop could present, blending the ambience of the season with the shop's unique character, which is casual and yet somehow playful.
Windows present greatly varying expressions from shop to shop. As this introduction indicates, peering more closely into displays that we commonly look at without much thought can bring into focus the shop's originality and what it is particular about. Before entering a shop, stop in front of it, gaze into the window that elaborates on its sensibilities, and look for aspects to which special attention is paid. Why not try this as a way of getting enjoyment out of shopping? You just might discover a new aspect to the stores you visit.
SHARE