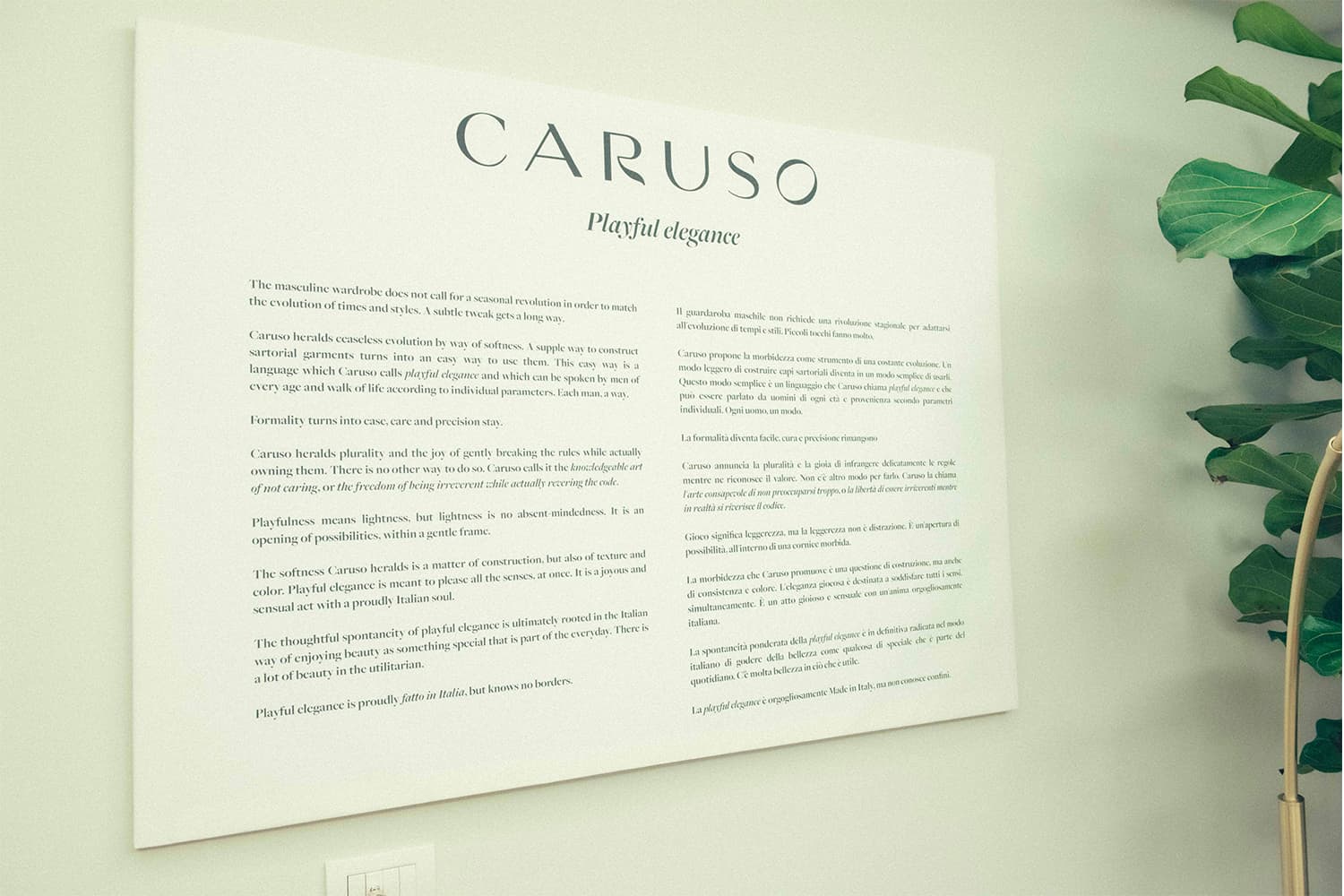 What is the future vision that CARUSO pursues? Discovering answers by interviewing the two key persons.
CARUSO places at the top of the list as a modern, refined brand that also handles a conventional tailored style. The brand was hugely reformed in the 2020 SS season for a new start. Mr. Aldo Maria Camillo (right), who built a career at Valentino and Berluti, was newly inaugurated as the creative director, and the firm's showroom in Milano was also reopened at a new location. In order to scrutinize into the beginning of their new era, we interviewed Mr. Aldo and Mr. Marco Angeloni (left), the CEO since 2018, for CARUSO's future directions, projects and visions.
Photo:Shunya Arai(YARD)
Text:Kai Tokuhara
―Mr. Aldo, what was your career like before you were inaugurated as the creative director?
I started to learn about design in NY when I was 13, and also learned the other genres such as literature. At the age of 20, I established a small-scale brand, and I participated for a lot of design competitions to seek an opportunity to work outside of Rome where I was grown up. At the time, I grasped a chance to work at Valentino as a designer, and then I moved to Paris and worked for Cerruti and Berluti. In 2018, I received a sponsored offer from the Pitti Uomo scout team and officially unveiled my own brand at runway show.
―And, you have been taking a part as the creative director of CARUSO since 2020 SS season. What was a story behind it?
I have always wanted to collaborate with a brand which matches with my design concept, so I have been checking the activities of CARUSO. I communicated with Marco Angeloni, the current CEO and whom I originally knew, about our possible cooperation. When I exhibited my brand at Pitti, I was officially offered a creative director position of Caruso from Marco. I felt it was the right moment to take a new challenge even I had to stop my own brand for one season.
―What did you specifically talk about with Mr. Marco?
It was more like a casual, daily conversation than a formal business talk, but I instantly knew that we had similar values, and I totally empathized with his sincere respect to a sartoria (tailor). During conversations, we spontaneously agreed that CARUSO probably needs a little more contemporary vibe.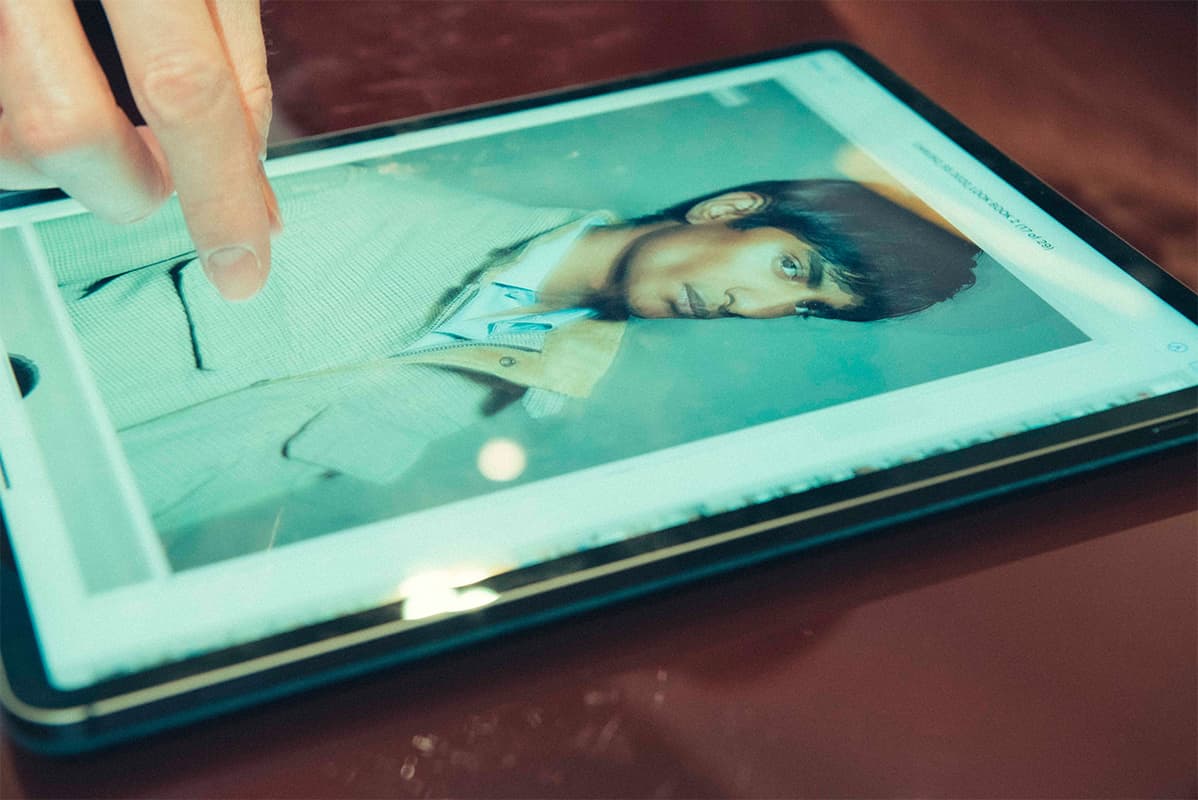 ―So both of you had close feeling. And from that point, how did you update the collection with a modern style by remaining the tradition of CARUSO?
The feature of CARUSO is definitely a jacket. Based on its classic jacket, I wanted to adopt modern fabrics and colorings which weren't used before and to design a lookbook of total outfits that match with the flow of today's trends.
―The balance of classic and contemporary is a key, and how do you form the coexistence?
What I always keep in my mind is an "evolution", not a "revolution". More than reforming a market entirely, we need to comprehend a flow and develop it. We shouldn't break down an entire trend, so we are required to update within a logical range. By communicating with end users, we can be able to produce something new based on its comprehension.
―What is the concept of the 2020 SS collection?
The first collection that I designed based on a conversation with Marco is that I incorporated summer-ish fabrics like cotton and mohair for a jacket, so a whole style is classy yet with modern details. However, we came up with an idea that a jacket is not necessarily the only item to present an elegance, and that is a new perspective of CARUSO. For instance, a casual cardigan suffices to demonstrate an elegance when an entire style is refined, and I designed non-jacket-items like knitwear with full of playful details in colors and linings. And, all the items are made in Italy which is surely unchanged.
―So, is an Italian style also changing and evolving as you are developing with the new concept?
Not only in Italy, but fashion itself is evolving globally. A jacket exists in limitless styles, and people start to wear it both casually and formally in which its border is disappearing. And, some journalists claim that "the era of a sartoria is over", yet I never thought so. The suit styles that I designed for my brand in 2018 and the jackets of CARUSO are undoubtedly remained with classic sartoria-styles with contemporary elements that the balances are extremely exquisite and attracting.
"Aida", "Butterfly", and "Drop Zero" are the three jacket models that CARUSO mainly offers. And, the UA&SONS exclusive suit is based on "Butterfly" which is light and comfortable. The jacket is buttonless, and the waist of the easy pants are half gathered. The tag is comprised of both names of CARUSO and UA&SONS.
The item is also based on "Butterfly" in an unconstructed style. The four-buttoned doubled-breasted model is made of linen that a comfortability and an elegance are perfectly harmonized.
The two-buttoned jacket is based on "Drop Zero" which is relaxed around the waist. It is made of high twisted cotton which generates a distinctive wrinkle-free texture in the fresh blue tint.
---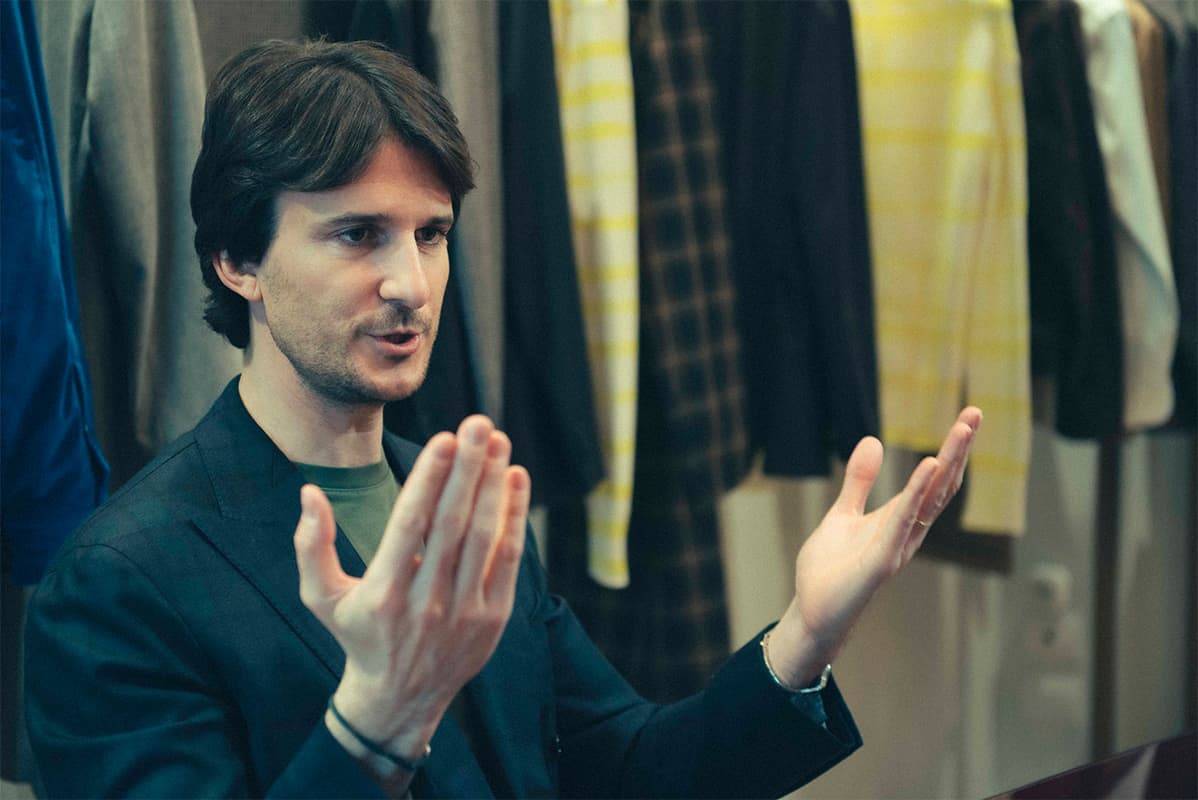 Our concept is "a playful elegance". Wishing to offer the renewed CARUSO fashion.
―Mr. Marco, as you inherited the brand from your father, Mr. Umberto Angeloni, in 2018, what was your first project you worked on after taking the new position?
I used to manage the manufacturing department at our factory in Soragna, and when I became the CEO, I focused on how CARUSO should step up in the future as well as how to deliver a fresh total look to our customers with jackets, our signature items. Simultaneously, I instantly felt that we needed a support of Aldo in order to achieve that. For the latest season, he designed knitwear and coats besides jackets, and I feel his creations are gradually changing perceptions of our customers. I would say that our current concept is "a playful elegance", and our styles can be completed in a total outfit, not with a single item. For upcoming seasons, we wish to offer more of our updated CARUSO fashion that suits with the times.
―Did you already have that idea even before you were inaugurated as the CEO?
Yeah. By working together with the factory staffs, these ideas were naturally accumulated in my mind. If a creator is not enjoying his/her job, there is no future for a brand, so I wanted to adopt modern ideas that our work could be more pleasurable.
―CARUSO owns its factory which manufactures original jackets, and what is a key to maintain the same high quality?
A traditional sartoria's detailed work like a final sewing has to be done by hands, but some other processes are handled by technology if a cost, an accuracy, and time are more efficient. Clothing manufacturing also has to follow the latest technology as styles are evolving likewise.
―The factory is located in Soragna, Parma, and what kind of a town is that?
Soragna is a very small town with less than 5,000 people. And, the number of our factory workers is about 500, so 1/10 of the town's population is related to our business. CARUSO is a crucial existence for the town and vice versa. We support each other.
―What do you think is necessary for a company to coexist in a local town?
I'm not so certain about this company's past efforts before I started to work, but I feel that the firm and the employees are fully respecting each other. Personally, I try to stay together with the employees as long as I can, for instance, celebrating a Christmas with the factory staffs. In the end of the last year, I wrapped up with the words, "each of you takes a larger part than myself to retain the quality of CARUSO, so let's all work together to accomplish what only a teamwork can." Even for a tiny matter, caring each employee and motivating them is so crucial to manage a positive teamwork.
―What is a future vision of CARUSO and what is a strategy?
Our aim is not to become a big brand, but by preserving the medium scale, we wish to hold three or four locations globally. Our ideal clothing is something that doesn't necessarily follow a trend, and it's not too classy, but it can be matched with versatile styles. Our current markets are mainly Europe and Japan, so we wish to step forward to America as well.
―Lastly, what is a corporate philosophy of CARUSO?
For each staff to acquire a responsibility as if self-employed. And, that mind is crucial in order to produce extraordinary products and stylings. In Italian, "Imprenditori ben vestiti" which means "be well-dresses business owners".
PROFILE
Marco Angeloni
Born in Rome, Italy. In 2018, he was inaugurated as the CEO of CARUSO by inheriting it from Mr. Umberto Angeloni who was in the charge of the position since 2008. For seeking a modern classic style, he reforms the brand by inviting Mr. Aldo Maria Camillo as the new creative director.
Aldo Maria Camillo
Born in Rome, Italy in 1975. After building a career at Valentino as an assistant designer, he transferred to Ermenegildo Zegna, Cerruti 1881, and Berluti where he fully contributed to each brand with his creativity. In 2018, he established his own brand, Aldo Maria Camillo, and held the first show at Pitti Uomo. In the 2020 SS season, he was inaugurated as the creative director of CARUSO.