Why jewelries by Philippe Audibert so beloved? Visiting the designer in Paris to explore the reasons.
Philippe Audibert has long been attracting jewelry lovers with its handmade pieces since its establishment in Paris in 1989. Despite of its reasonable price points, the silver and gold creations are totally covered in an elegant atmosphere, and that makes the brand highly evaluated by Japanese females. In order to explore the brand further, we have visited its showroom in Paris to interview with Mr. Philippe Audibert, the designer, who perceives a jewelry as an art. Today, we will dig into his mind to learn about his philosophy toward the brand's product making.
Photo:Shunya Arai(YARD)
Text:Kai Tokuhara
―Hi, Mr. Philippe. To start with, could you tell us how did you acquire your creativity as a jewelry designer and a sculptor?
I used to study at an art school for seven years, and I was fascinated by sculptures at a pretty early stage then. During the time, I met with a lot of great professors, and they taught me fundamental to advanced skills about various types of creations. I discerned that "anything is possible" in terms of a product making since then.
―How does that experience reflect into your jewelry making today?
When I start drawing an initial design, I imagine an enormous monument in my mind and try to minimalize that vague idea into a practical matter. Thus, my experience and knowledge about sculptures at the school reflect so in my sketches.
―Where does an inspiration come from that builds up that monument of your jewelry design?
Some greatest architects from the 1950's are my main inspirations such as Murray Stevens, an American architect who proposed urbanism, Oscar Niemeyer, a father of mysterious curved buildings from Brazil, and Le Corbusier, a French architect who offered functionalism and expressionism. In fact, they do not have much things in common. However, each of them accomplished something that no one had ever done before, and they denied the globalism. Fernando Botero, a sculptor, also influenced me a lot. His creations are rounded and curved in a feminine vibe, and his perspective strongly and mentally affected me.
―How did you encounter with their works?
By traveling. Travels and sports are inevitable for my life. By crossing a country to a country, I love to stroll down and run around a city, and I try to stay at each place as long as I can in order to observe native people and authentic cultures. These two elements are the cores of my product making.
―Have you been to Japan as well?
Of course! I admire Japanese traditional cultures and peaceful suburban lifestyles. One thing that I missed during the trip was to climb Mt. Fuji haha. I will come back for that for sure in the future.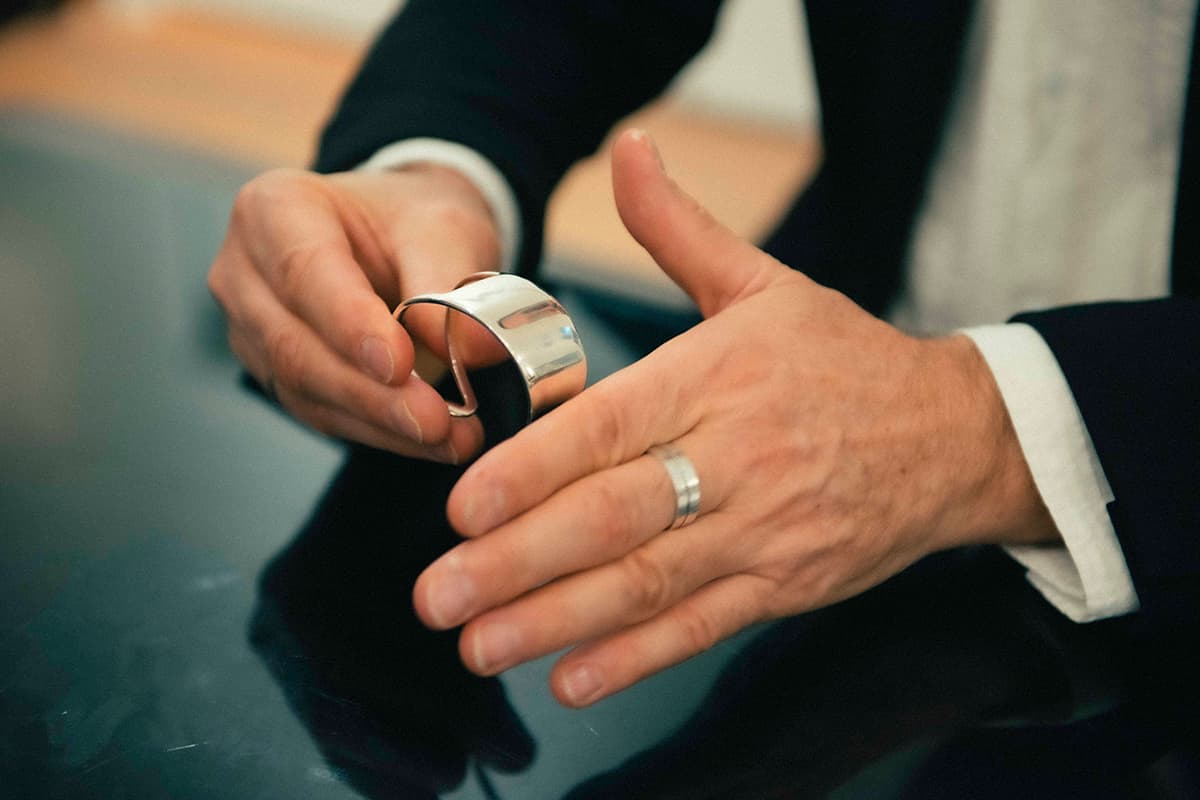 ―We'd love to switch to a next topic, a jewelry making. Firstly, please tell us about a concept of your brand.
Our concept is "Plein (full)" and "Vide (empty)" which are two contrast matters that exists in the world anywhere and anytime. Particularly, "Plein" is "the enormous monument" that I mentioned previously, and "Vibe" denotes "light" and "space".
―How do you manufacture the elegant textures and the exquisite curved lines of your jewelries?
"Smoothness" and "feminine roundness" are our central concepts. These ideas came from my experience in sculpture, and we manufacture all our collections by hands which enable to produce smoother figures.
―Where do you draw your sketches?
Anywhere. I design at my atelier at Rue de Sèvres, at Corsica, my wife's hometown, at an airplane, or at my home in Paris too.
―So, your atelier is located in Paris?
Yeah. I mainly work at our ateliers that we have several locations in Paris. Each atelier is specialized for a particular method such as for processing silvers and golds or for polishing the metals. Our team shares a very high standard for our product that we thoroughly inspect every single item and if a piece doesn't meet with our expectation, we will send it over for re-processing. Some craftsmen have been working over 30 years since our brand's establishment in 1989, and they are unquestionably our invaluable assets. One thing that's changed for our manufacture recently is that we incorporated a 3D printer since the technology totally enhanced our visualization. However, our basic process hasn't changed over the three decades.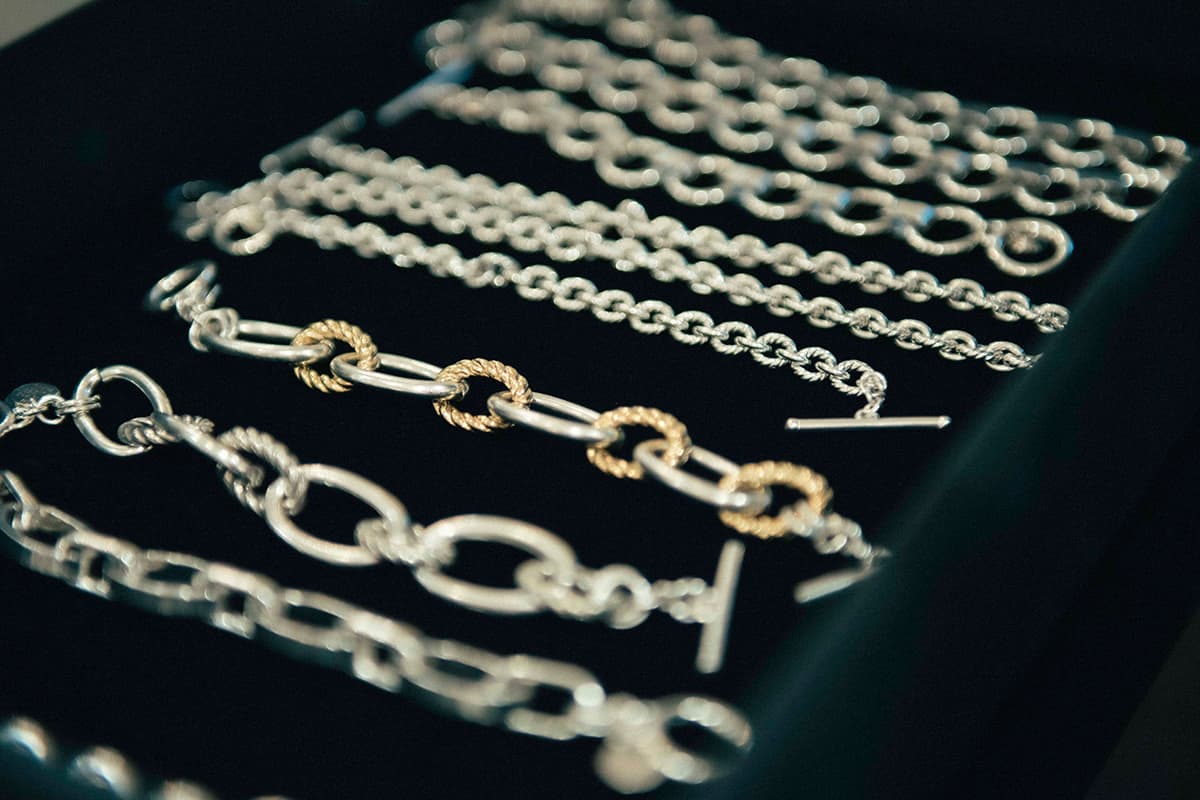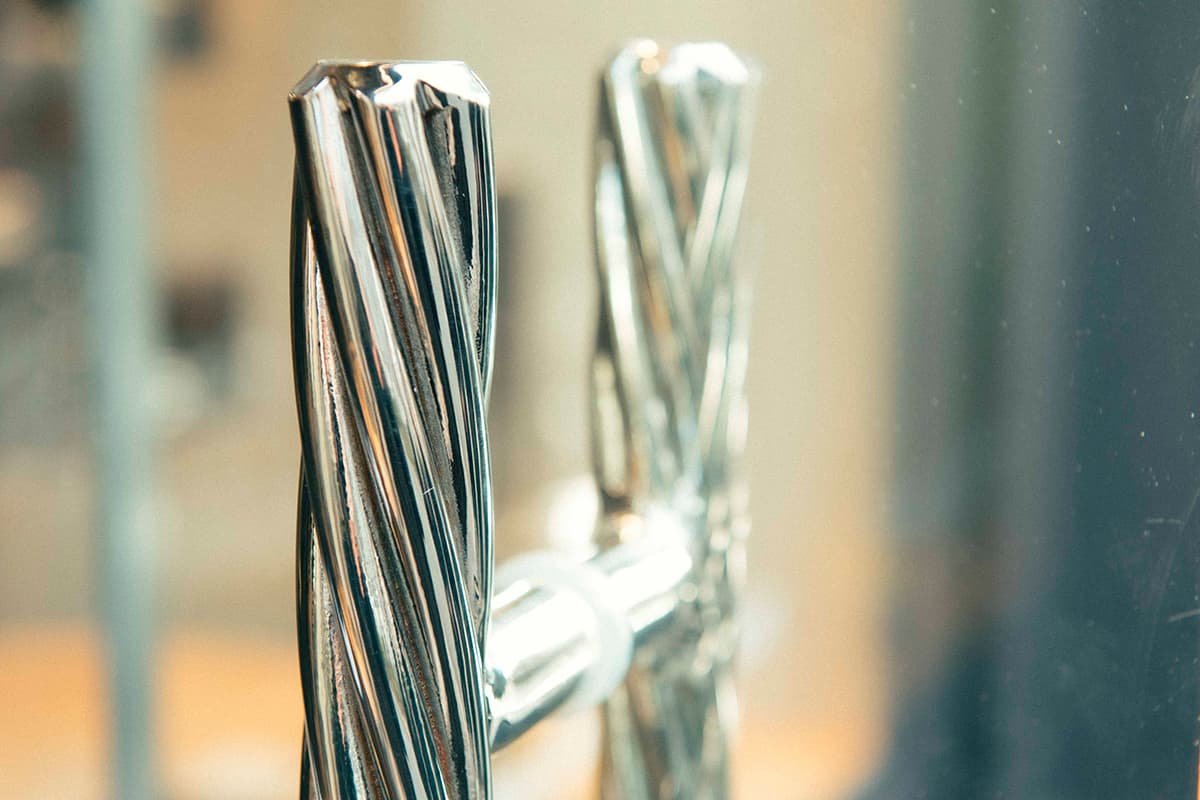 The shop of Philippe Audibert is located within three-minute walking distance from its atelier, and the door nob of the entrance is also manufactured by the craftsmen.
―Numbers of collections and types of items are so affluent. Is that also a strength of Philippe Audibert?
We create about 200 models per season, and I think we can count that as one of our strengths. Yet, we are prouder of our consistency in terms of our skills and managements that we retain our quality at the highest standard for decades. However, we couldn't have done that only by ourselves in which supports of our business partners like UNITED ARROWS led us to be where we are today as well.
―What do you personally cherish about a design?
I have three things. First, to imagine a large monument when I sketch a sample. Second, to turn it smaller. Third, to minimalize it into a practical idea. By doing so, a jewelry can be functional which can be worn through generations. I love the theory that an artistic spirit lives within a jewelry as well as a social functionality.
―UNITED ARROWS exclusively ordered jewelries from your brand this season, and what kind of jewelries are they?
I had constantly been designing barretta (hair clip) for 30 years, and the piece is derived from my original item from the earlier stage. Its inspiration was surely come from an architecture. A roof of a building and a feminine roundness are the key features. Gratefully, UNITED ARROWS inquired us about the exclusive collection, and our collaboration was realized.
The next barretta is derived from our iconic collection "Chain" that we have been working on since a few years ago. Expressing a chain from the two rings was a quite simple idea to me. Chains demonstrate vintage and romantic sides of our brand, and the two rings denote that "a life starts from two persons". As I have repeatedly mentioned about imagining a large monument in the beginning, please take a closer look to the jewelry. I believe you can even imagine a 30m-high monument from the piece.
A chain bracelet. For us, chains are one of artworks which stand for "connecting independences", and we can express our brand concepts of "smoothness" and "roundness". Chains are infinite in its possibility of a design, and we will keep producing the series. When I started to work with Japanese people in the past, women didn't really wear chain jewelries that they rather preferred feminine styles. However, these unisex designs are seemingly getting popular in the recent markets.
―Lastly, what do you gain from working together with Japanese select shops like UNITED ARROWS?
A lot of stimulations. As Japanese people visit us every season for seeking a jewelry trend in Paris, we also try to demonstrate differently to meet with their expectations, and we started to pay higher attentions to the Japanese market as well. In addition, I really appreciate that a lot of Japanese magazines introduce about us too. We are eager to keep generating great items to fascinate more jewelry lovers in Japan.