Enjoying authentic formal taste at the intersection of the tuxedos and kimono
Mr. Morota is the director of men's formalwear for United Arrows and is involved in product planning and buying for the company. Drawing on his personal wardrobe, he elaborates not only on the canonized rules of dressing, but the essentials of dressing in a way to fit the occasion and group.
Photo_Tatsunari Kawazu
Text_Keiichiro Miyata
Leading a rich life as a Japanese is about using both Western and Japanese attire
ーFormal attire involves a range of rules and dress codes — what manners and considerations are there in terms of mastering this type of clothing?
Morota: Formalwear is generally used for special events out of the everyday. Unlike everyday clothing, where we express our feelings and mood for that day, it has a set of rules that follow. Those rules, however, came out of European culture and have been preserved there, so in Japan there are few situations in which the rules are strictly enforced, and there are many aspects of formal attire that may feel unusual to us as Japanese. What is most important is expressing your respect for the person who invited you and dressing in a way that is consonant with the venue and situation. In other words, formal clothing is a system of manners and etiquette. It's not only about following the dress code, but about showing consideration to those around you — and that is the original essence of formal clothing. I felt strongly about this, and in my forties, I started to realize that I wanted to enjoy what formal Japanese wear had to offer just as much as I had with Western formalwear, adapting it to suit the occasion and mood.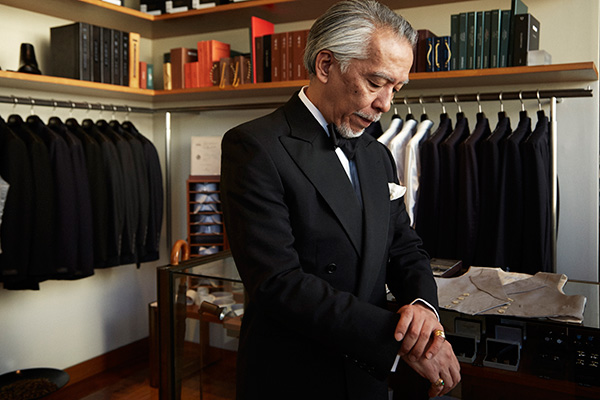 ーSo you treat formal Japanese and Western clothing as analogous. Tell us about the tuxedo you are wearing today. In what situations would you wear this kind of outfit?
Morota: This outfit would be something I would wear to a wedding reception in the fashion industry. We have fewer and fewer opportunities to wear tuxedos today, but for an event with lots of people from fashion in attendance, I felt this outfit would not look out of place. It had been some time since I slipped my arms through a formal tuxedo, and I have to admit, there is something charming about the way classical, elegant dress is immune to trends and the vagaries of time and is something you can wear for years. Your posture feels better and it puts a spring in your step. I think that for wedding receptions and the like, an orthodox style generally looks best — there is no need to go to great lengths to express yourself in formalwear. The foundation is already excellent. If you try to differentiate your style in formalwear, it will stand out and seem superficial. If you do intend to add an accent, the key is the subtle balance of knowing whether it will hit the right cue for those around you or stray from the mark.
ーWhat are some other favorite Western-style pieces in your wardrobe, besides your tuxedo?
Morota: I maintain an archive of numerous pieces of formal wear out of the belief that only with the knowledge of the significance and stance of men's formalwear can I provide suggestions to clients wearing it for a range of different situations. That includes a three-piece morning suit, the kind that is said to be worn at Ascot Racecourse, a social scene for ladies and gentlemen in England. This is worn with a felt hat, waistcoat, and braces that are all coordinated in gray. One carries an umbrella in the hand, as it also serves as a walking stick. The handle on mine incorporates a slot for a pencil — a detail that tickles the gentleman's fancy. The morning suit is a piece of formalwear that exudes strong hints of how it developed to meet certain lifestyle needs.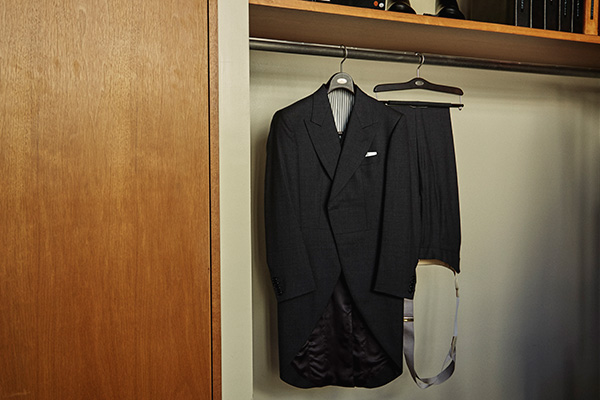 ーTraditional Japanese clothing seems very challenging and complex. How can we go about enjoying it as we do Western formalwear?
Morota: Traditionally, donning a hakama is supposed to make Japanese formal dress more refined, so we might consider it a sort of "Sunday best." We suggest haori coats in fabrics that incorporate patterns like fish scales, wood grain, bamboo, and phoenixes as a potential alternative to the tuxedo. The range of traditional patterns and weaves tie in to auspicious motifs; these were believed to have been selected and worn as lucky charms. They give off Japan's ancient culture, passed down through the generations, and there is something intriguing about them. In terms of the obi belt, it's like selecting a necktie, and accessories like a drawstring pouch and hand fan let your personalize the look. The silhouette falls from the shoulders, making it good for slender people, so Japanese people of all types find it easy to wear and it somehow intuitive on a, dare I say, genetic level! All you need is a minimum of knowledge to enjoy Japanese-style dress and its fun color combinations.
ーUnited Arrows started taking kimono orders two years ago. How has the response been in-store?
Morota: We offer three varieties of white fabric with different woven patterns and six dyed fabrics in different colors. We then take the client's measurements and prepare the garment to his specifications. A kimono may seem expensive compared to Western formalwear, but clients have really enjoyed the level of detail and intricate work, not to mention the pleasure of wearing Japanese formalwear correctly, so we have many repeat customers now. We also take Japanese crests, one of the unique design elements of Japanese culture, and offer them in styles ranging from orthodox embroidery to more unusual crystal motifs — this ability to choose the details is one of United Arrows' strengths. We also stock a wide range of luxury accessories like hand fans scaled to the appropriate dimensions and accessories like a sharkskin pouch with a mammoth tusk pull for the cord.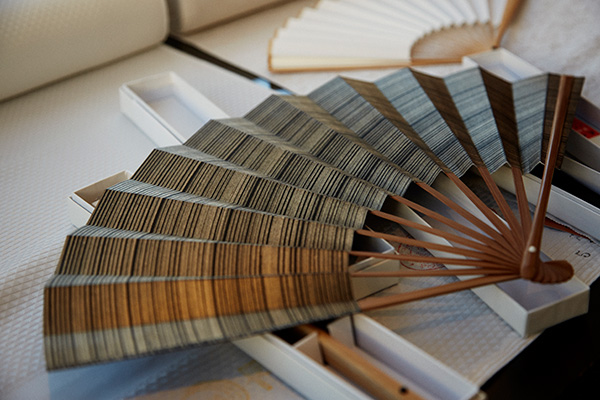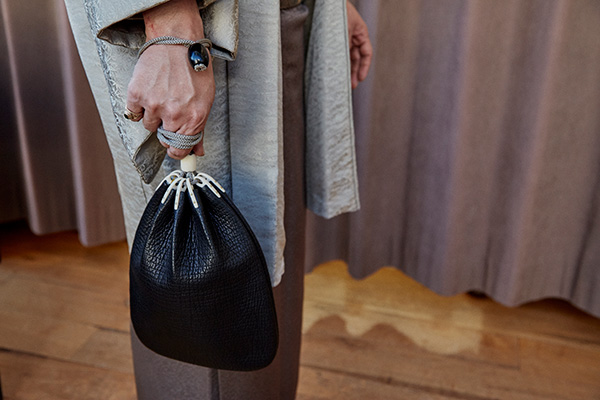 ーHas your understanding of formalwear changed since incorporating Japanese items in your collection?
Morota: I was once invited to the wedding reception of a junior colleague of mine, and I wasn't sure what to wear. He told me, somewhat jokingly, I know a kimono suits you best!" I wanted to put a smile on his face, so I appeared in a kimono. Apparently, this left a deep impression on him, and it taught me how formalwear can be a way of expressing your deep respect for people. I now had a new item in my arsenal. I also feel that Japanese clothing lends an air of regal relaxation to the proceedings, giving one ease and grace. I've been fortunate enough to have many opportunities to learn about etiquette, and this has let me deepen my own understanding of what formalwear means to me in terms of dressing for the occasion and for others. Speaking more broadly, whom will I be eating with? What relationship do I have with the people in this meeting? You can incorporate TPO (time, place, opportunity) thinking into everyday fashion. I think that, whether you end up wearing Western or Japanese attire, the experience of dressing is an excellent opportunity to increase your human empathy and communication skills in terms of what you convey when you dress. The idiom that "manners come after food and dress are met" is at the heart of this idea. With a basis in formal clothing, you can show respect for others.
INFORMATION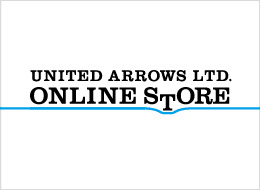 PROFILE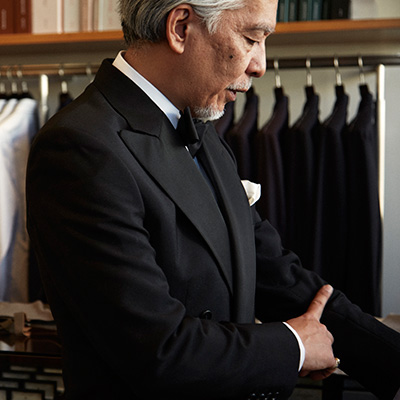 Yoshihiro Morota
Born in Shizuoka Prefecture in 1961. His father sold sewing machines for a living, and his mother was a dressmaking instructor, so he developed a natural interest in clothing. During his middle school years, he idolized Ivy League fashion and went on to work in the apparel industry in his student days. After working at Hackett and other firms, he joined United Arrows in 2003. Currently engaged as UA's director of kimono and formalwear.
SHARE