The Real Communication that Lies Beyond the Manual
United Arrows emphasizes having shop staff with highly refined people and customer service skills. Among the many diverse and unique staff members present at locations across the country, Mr. Takeo Yoshida, who works at the United Arrows Harajuku Men's location, is a customer service specialist highly praised by many customers. But just how does Mr. Yoshida actually utilize this skill in everyday customer interactions? Let's take a closer look at his secrets to communication success.
Photo:Takeshi Wakabayashi
Text:Yuichiro Tsuji
Special Thanks:Kazutoshi Masuda、UNITED ARROWS HARAJUKU FOR MEN、UA BAR、UC
He says that he's motivated by "satisfying the customer" above all else.
 
-What do you normally focus on in order to make your customer service as good as possible?
Yoshida:  What I try to do is show items that I think the customer will want, and treat them in a way that will make them feel comfortable in taking the items they like home. Everyone has a different style and different items that resonate with them, and so I try to talk with them to figure out what they are really after so that I can show them the items and brands that match their preferences.
 
-So the idea is to "turn on" your customers, is that right?
 
Yoshida:That's right. The United Arrows Harajuku Men's location where I work carries a trendy lineup of items unique even compared to other United Arrows locations, with a wide selection and a special concept United Arrows and Sons store inside as well. We have a lot of customers who have been visiting the shop for a long time, as well as those involved in the fashion industry or who have a strong passion for clothes and style, so my main desire is to be able to show off items that even fashion experts like them will like. I also just simply want to share the fun of fashion with people, too.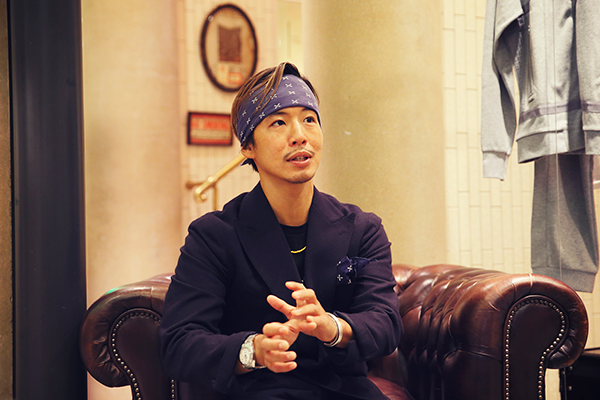 -But on the other hand if you are too one-side in your sales approach it may overwhelm the customer right? How do you manage to strike that difficult balance?
 
Yoshida: It's not that I want to "sell" anything. More than anything, I want my customers to leave satisfied. Even if we don't happen to be carrying what my customer is after, I'll take them to a nearby shop to help them find what they're looking for. If we still can't find it, I'll go myself to another shop and purchase it in advance for them. Some people might think it's weird that I would go even to a competitor store, but at the end of the day, I don't think anyone has a rule that says they absolutely must buy their clothes at United Arrows.
 
-So even if it doesn't lead to your own sales, you think the most important thing is satisfying the customer.
 
Yoshida: Yes. I think that doing your absolute best for customers will keep them coming back. No matter what they are looking for, doing your best to provide the customer with a valuable experience is key, I think.
 
-When you provide the customer service we've just been talking about, how do the customers actually respond? 
 
Yoshida: I think they are honestly just happy. And if I feel like I've gained their confidence even just a little, I make sure to work even harder not to betray that trust in the future.
-So that's how you build customer trust?
 
Yoshida: At first, I put a lot of pressure on myself, wondering just what I could do for the customer. But after doing my best little by little each day, more and more customers starting coming in asking for me, and this led to more confidence in my abilities. This let me relax a little, which I think has given me the space to widen my outlook.
 
-I see.
 
Yoshida: Another important experience that helped shape who I am now was having a customer teach me surfing during my time off. Surfing doesn't just mean riding the waves, but also stresses the importance of interpersonal relationships, and that's why surfers try to respect the culture of local surfers. Taught and scolded by lots of different people as I tried my best to learn the techniques, rules, and culture of surfing, I was naturally able to gain a humble mindset. I think this new mindset is something that I've been able to bring in to work with me in my interactions with customers, too.
 
-By achieving something through hard work, you were able to gain a deeper and more lasting confidence.
 
Yoshida: Well, I'm not sure, but I do feel that recently I've been able to keep a good balance between the pressures of my position and my own confidence. At first, I really just tried to recommend my favorite items to customers, but now I try and prioritize the customer having a positive experience above all else. I feel like I can stay really relaxed when communicating with customers now.

Mr. Yoshida says he takes it very easy during his break time to stay healthy and rested. One way he takes a refresher is by enjoying conversation with his colleagues.
Communicating with Customers as People
Do you pay attention to other staff or try and encourage each other to get better?
 
Yoshida: In the sense that we are stress uniqueness, I think the staff doesn't really pay too much attention to what each other is doing. Each person has their own style, and I feel that it is important to grow one's abilities in one's own way. Learning the basic manual is of course important, but I think real customer service begins beyond what it says in the rule book. I also think that the store is able to provide value to the customer by having staff members who are each their own unique individual.
 
-A good shop is a shop where the staff provide service that goes beyond the manual book in their own individual ways.
 
Yoshida: I think so. A lot of companies now have employees go through "customer service role playing," but I think this really only allows people to get a basic minimum understanding of the basic of dealing with customers. Since this is a must for any floor staff, people need to find their own ways of further developing their individual talents to improve even more.
 
-What do you think makes you personally unique?
 
Yoshida: I guess it would be my "flat" customer service?
 
-What do you mean by that?
 
Yoshida: I remember one time during high school, I went into a United Arrows shop wearing my high school uniform. Even though the staff member who approached my obviously knew I was still young, he treated me as a customer, and of course as a person as well. That made me so happy, and it was the first time I felt that I really wanted to join this company. That is the kind of experience that I want to provide to my customers now.

Mr. Yoshida often goes out for dinner and drinks with customers after his shift ends, another example of the important he places on close communication.
-In case you didn't know, we actually spoke to a customer whom you've spent time with on your time off. This customer made a similar comment to what you just said. He said that you are very good at communicating with people in a person-to-person way, while keeping in mind the staff-customer relationship.
 
Yoshida: Those words are very kind. I don't really draw a strong distinction between work and private life. That's why I enjoy going surfing with customers, or enjoying non-work related talk, and I think this attitude has a positive effect on my ability to communicate with people.
 
-But you are able to do that because you have mastered the basics of customer service etiquette, I'm sure.
 
Yoshida: That might be true. I also try my best to stay healthy and rested so that I can keep up my style. I make sure to stretch in the morning and before bed, and I take it very easy during my break time to maintain my stamina. This also keeps my mind fresh, which lets me communicate with customers closely always in my best condition.
 
-Since you don't really see your life in terms of job versus private time, the work you put in daily isn't stressful because it's not just for your job, right?
 
Yoshida: I'd feel pretty bad if I couldn't put out my best performance for a customer who took the time to come into my shop. That's why it's absolutely key to maintain my health.
 
-Finally, what do you think United Arrows has in mind when it talks about the importance of "people."
 
Yoshida: I think United Arrows is talking about the kind pf person who is able to speak politely, look a customer in the eyes when speaking, nod and comment when appropriate and answer questions helpfully when needed, and who has mastered all the basics, but is also able to keep an open mind and relaxed attitude. People who can do this are able to communicate more fully, which allows them to grow as individuals too. For me, United Arrows is looking for the type of person who never neglects the basics, and that's the kind of person I strive to be.
PROFILE
TAKEO YOSHIDA
SHARE